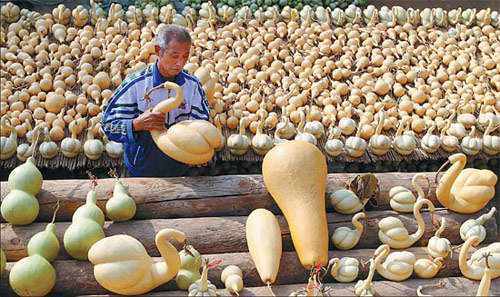 Gourd grower Liu Xianzhen checks a swan-shaped gourd at his courtyard in Dacheng county, Hebei province. Photos by Zhu Xingxin / China Daily
Halloween may be lucky timing for this gourd-growing farmer, but he only cares about making art from vegetables, he tells Wang Kaihao and Xu Lin in Dacheng county, Hebei province.
Related Video: For the love of gourds
Halloween is famous for bringing out the magic in pumpkins. But in the suburbs of Beijing, one grower of gourds is now harvesting ornamental vegetables with eerie shapes - and he's never even heard of the spooky holiday.
One may feel like Alice in the wonderland of gourds when stepping into Liu Xianzhen's courtyard. Liu grows gourds that he painstakingly shapes to look like other plants, such as pumpkins, and animals, such as swans.
Tens of thousands of gourds in different sizes and shapes lay on roofs and long shelves on the ground and hang on walls. Swan-like gourds bow their heads and lazily bask in the rare sunshine after days of heavy fog.
Visitors may assume that some exotic gourds were prepared for Halloween, but grower Liu had no idea what that festival is when we asked.
"I like making gourds, which is both my work and duty. The more I make, the more I love it," says Liu, 63, from Jiujianfang village, Dacheng county, Hebei province, about three hours' drive from Beijing.
Shy in the beginning, Liu becomes very talkative as he shows off his various gourds - as if introducing his children.
"The secret is to shape the gourds when they are growing," says Liu, who uses his hands and plastic rope to tie up the small fruits on trellises in his 0.8-hectare gourd garden.
The harvest season has ended in late October. Only a few fruits hang on each trellis, and a pile of gourds is stacked on the ground. A gourd usually grows for 90 days. After being peeled, it is dried in the sun for at least two weeks to harden its skin.
Figuring out when to start tying and shaping is tricky.