Faster than a cheetah, higher and stronger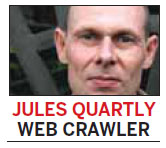 "Yeah! She won," was our headline for the first great gold medal of the London Games. It was about the record-breaking 400m individual medley swim of Ye Shiwen and was drowned out somewhat by all that followed after a US coach suggested it was "unbelievable" - a well understood euphemism for drug cheating. The suggestion was that a maturing teen with freakishly big hands and feet couldn't swim as fast she did unless her performance had been enhanced by drugs, or even augmented body parts.
Well, my point would be that you're innocent before guilty and there has been no taint whatsoever despite stringent testing of Ye. But actually do I care? Her double kick in the last 50 meters, which appeared to be the key to her astounding speed, was thrilling to watch. I wonder when the days of the Augmented Games isn't far off.
I belatedly saw The Hunger Games this week, and I guess it would be a bit like that, in terms of TV technology, politics and the limits of humanity. It would also have a science fiction-laboratory atmosphere and to begin with seem a little freaky. But like Formula 1 racing, technological improvements would eventually filter down to the masses, making life better for those in need of help or improvement.
The athletes would be star performers and Arnold Schwarzenegger is our model Augmented Games gold medal winner. He's good looking and went far beyond the limits of human endurance by pumping himself full of anabolic steroids to win seven Mr Olympia contests. And we all know how successful he has been since then. Diego Maradona would be a popular choice and there would be a place on the podium for Canadian sprinter Ben Johnson, a lot of Tour de France cyclists, and naturally, Michael Phelps, though I am not suggesting marijuana is a performance-enhancing drug. Oscar Pistorius is another of the ultimate poster boys for the coming revolution in sports, and there are so many more
A few weeks back I wrote about the case of cyborg pioneer Steve Mann, who accuses McDonald's of discriminating against him for wearing augmented spectacles in a restaurant (probably useful in Rifle Events). Well, since so many of us are held together by metal pins and pacemakers it won't be long before we all have equal rights. Especially those Pioneers of the Future who really will go far faster, higher and be stronger.
Currently, it appears we are near the end of our natural human limits. Usain Bolt was .12 seconds faster than Yohan Blake in the 100m final. This tiny margin of error or genius among broadly equal individuals is the distance between winning and losing.
But this will all change with the Augmented Games, which paints an altogether more ambitious vision of the future of athletics. "Faster than a cheetah, higher than the stars, stronger than a machine." There will be new world records every year. We have already accommodated the World Cyber Games and Western Canadian Robot Games on our sporting calendar, but the Cyborg Athlete Games, Cosmetically Enhanced and Transformer Games will surely have their fans.
Naturally, only willing adults will be allowed to participate. Yes, there is risk. The field of human endeavor is littered with its fallen. But these people will be real Olympians, possibly partly immortal. The Augmented Games, I propose, should be a strictly heavyweight, no-holds barred contest for all comers, modified, chemically or genetically enhanced.
And just in case anyone cheats and the winning athlete is not a modified humanoid but an unadulterated human, we will remain thankful for the Olympic Games.
Contact the writer at julesquartly@chinadaily.com.cn.