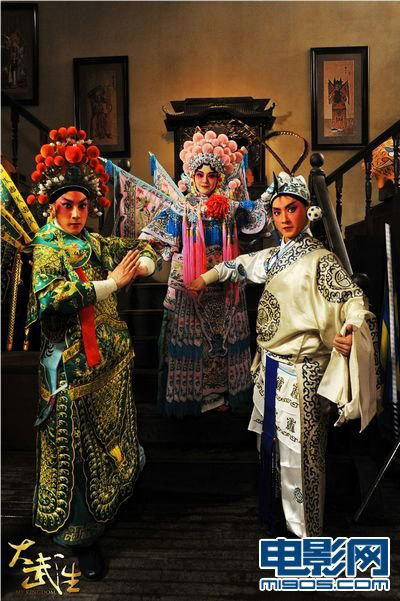 The actors Chun Wu, Han Geng and Barbie Hsu portraying Peking opera performers in the movie "My Kingdom."[Photo/M1905.com]
The production company of the action romance, "My Kingdom," officially unveiled the make-up secrets of the three leads Chun Wu, Han Geng and Barbie Hsu, M1905.com reports.
"My Kingdom" caught critic's attention at the 14th Shanghai International Film Festival for its unique story that revolves around Beijing Opera.
The makeup techniques surprised audiences after the actors revealed the length of time it took to apply and the difficulties faced on set.
Actors Chun Wu and Barbie Hsu shared their experiences in an interview.
Chun Wu, who played the character of the Monkey King, told media that his makeup took one or two hours to apply each day. He said, "I couldn't move once the makeup was applied. When I was thirsty, I had to use suction tube to drink!"
The famous Beauty Queen Barbie Hsu told press that it harmed her skin a great deal, but as a professional actress she went through with it.
The director of the film, Gao Xiaosong, was recently given a jail sentence for drink driving so it has been the responsibility of the three lead actors to promote the movie. Each of the actors trained for months before the film was shot. The action director Sammo Hung has tipped that Han Geng and Chun Wu could go on to become the stars of future Chinese action movies.
"My Kingdom" is due to be released this August.