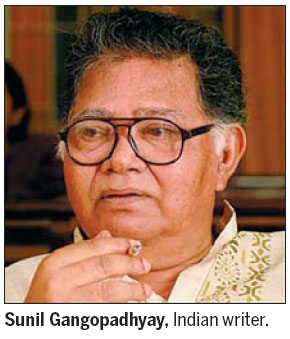 Indian author Sunil Gangopadhyay, seen in some circles as a contender for the Nobel, does not put much stock in the coveted award.
Gangopadhyay, who writes in Bengali and enjoys an overwhelming following in India, Bangladesh and beyond, recently visited Beijing for an event hosted by the Indian Culture Wing.
Now on his third visit to China, the president of the Sahitya Akademi (Indian National Academy of Letters) dismissed the Nobel Committee's choices as driven by "politics of representation", with each country and language group waiting for its turn.
"Rabindranath Tagore (the first Asian/Indian to win in 1913) did not win it as much for his writing as for his philosophy and the fact that the mystic aura created around his personality was a new-fangled thing that impressed the West," Gangopadhyay says.
Over his 55-year writing career, the 76-year-old writer has attempted every possible form and genre experiment. In his novel Maya Kanan-er Phool, (The Enchanting Garden), sentences stop halfway through and words became sparer as the narrative progresses, inviting readers to fill in the blanks with their own ideas.
He has written over 350 books, overtaking the incredibly prolific Tagore in terms of the number of words penned. "But certainly not in terms of quality," he says.
As a rebellious young poet challenging the literary establishment in the 1960s, Gangopadhyay called Tagore's poetry "dated", committing what was then considered a literary blasphemy.
Years later, Tagore was made the protagonist of his voluminous novel, Pratham Alo (First Light). Gangopadhyay says he was only contesting the idea that "Tagore was the last word in Bengali literature". Gangopadhyay says he never stopped admiring and reassessing the poet's work.
Neither did the Kolkata native stop singing Tagore's songs. Until recently, the seasoned theater hand staged Tagore plays for an annual fundraising show, in which he would act and sing.
His China connection began in 1981, when he joined the Iowa Writing Program (IWP) in the United States. The residency for writers from across the world was started by Chinese novelist and poet Hualing Nieh Engle and her husband, the American poet Paul Engle. Meeting Nieh kindled Gangopadhyay's curiosity about China, a culture then unknown to most of the world.
Gangopadhyay bonded with IWP writer Ding Ling. He was moved by her visceral response to life as a young Communist revolutionary and maintained contact until her 1986 death.
An intrepid international traveler, Gangopadhyay landed in China in 1989.
"The Shanghai Radio Station was a four-story building then; now, it's 43 floors. Beijing used to be a city of cycles; now, one sees only imported cars frozen in traffic jams," he says.
India's Naxalite Movement (1967-71) - a student uprising seeking a redistribution of land among landless farmers- figures prominently in many of his novels, such as Arjun, Pratidwandi (The Adversary) and Purba-Paschim (East and West). China-India relations in the 1960s comprise a substantial part of his autobiography, Ordhek Jiban (Half a Life).
"As students in the 1950s, we'd thought the Chinese line was the one to follow," Gangopadhyay says.
"We admired the way Mao managed to change the whole Chinese society and his Hundred Flowers Bloom campaign."
But when the Naxalites launched a mindless volley of assassinations - killing professors and police constables because they were deemed members of the establishment and therefore "class enemies" - they lost Gangopadhyay's support.
Gangopadhyay was born in a village in Faridpur (now part of Bangladesh), to an impoverished schoolmaster - one of many siblings. Today he is so deluged with requests to contribute to publications, write forewords, make appearances and sit on committees in India that he escapes to Boston in the US for three months every summer to write without interruption.
He has won all of India's major national literary awards but believes the best is yet to come.
"It gives me great pleasure just to play (out) the idea of that unwritten story inside my head," he says.