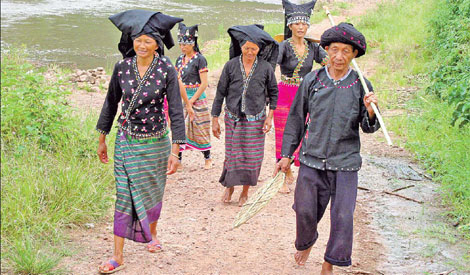 Few Paijiao, an oxen-worshiping tribe in southern Yunnan province, hold on to their age-old traditions. Provided to China Daily
The Paijiao are a tribe of less than 180 people in Yunnan, whose unique ethnic costumes have found a savior in a Han tailor, but whose other traditions are on the brink of extinction.
When Yao Xueqiang married an ethnic Paijiao woman after leaving the army more than 20 years ago and settled in her Mangang village, it marked the start of this Han man's bonding with her tribe - a bond forged by needlework. Yao, the only tailor in the village, has helped prevent the traditional costumes of this little known ethnic group in China from vanishing.
Nestled in the thick tropical forests of Mengla county, Yunnan province, near the border between China and Laos, the community of fewer than 180 Paijiao people in Mangang was also caught in the currents of commerce sweeping China in the early 1980s.
Highways, television and telephones connected the village, located about 40 km from the county seat, to modernity.
The age-old Paijiao traditions of weaving and sewing gradually began to disappear and be replaced by colorful and cheap factory-produced clothing.
Yao's arrival, however, made a difference. A soldier stationed with frontier defense troops only 2 km from Mangang, Yao met and fell in love with Yila, a Paijiao woman, during his trips to the village to buy vegetables for the garrison.
The two decided to return to Mangang after spending six months in Yao's hometown in Sichuan province following their wedding, as Yila was afraid that her brothers would not be able to look after their parents.
Her mother's costumes were the only models available to Yao when he decided to try his hand at making some costumes.
But, he did not merely copy the originals; instead, he made changes such as replacing the raglan sleeve design with set-in sleeves, which are technically more difficult but look more form-fitting.
He also reproduced the traditional costumes for Paijiao men based on descriptions given by his father-in-law, Boben.
Yao, 45, is now the only tailor making traditional Paijiao costumes in Mangang.
And thanks to his suggestions, the Paijiao have shifted to wearing a horn-like headwear, instead of coiling their hair into the traditional horn shape - a time-consuming affair.
Very little is known about this group and the occasional media reports about Paijiao inevitably describe these oxen-worshiping people as "mysterious".
According to legend, an unwed Paijiao woman was once driven from her home by her parents because she got pregnant. The girl later gave birth to a boy on the mountain. The cry of the baby attracted a cow, who then nursed the newborn with her own milk until he grew up.
To pay homage to his life-saver, the boy coiled his hair into a horn shape, and other members of the group followed suit. This is why the tribe is called Paijiao, which means a pair of horns.
Yao refuses to call his work heritage protection. "I did it only because I learned tailoring and was interested in the costumes," he says.
Yao's craftsmanship is on display only during festive occasions as shirts, short pants, jeans and sweaters have now become the everyday choice of wear among the Paijiao.
Even Yao's 70 plus father-in-law, Boben, has not been able to resist the trend. The elderly man dresses in a dark-gray shirt, pants and a navy-blue baseball cap, looking every bit an elderly Han, except for his sun-tanned skin.
Yao's wife, Yila, is no exception, either. Like most other village women, the 44-year-old wears close-fitting, short-sleeved blouses and straight, long skirts in bright colors, a typical style of Dai women, an ethnic group which has, since ancient times, dominated the culture of Xishuangbanna, a prefecture that administers Mengla.
A crisis for Paijiao costumes looms if no one succeeds Yao.
Both of Yao's sons are now seeking their dreams elsewhere. Although the second son, Yao Chu, has evinced some interest in garment design, the 19-year-old admits he has no interest in Paijiao clothing.
He left Mangang three years ago and is now in Chengdu, Sichuan, working at a shoe plant as a quality checker. The young man, more than 180 cm tall, says his dream is to become a fashion model, but not of Paijiao costumes.
"I've never worn traditional Paijiao clothes, though some of my peers would wear them during festivals. I don't think they look cool. I just like trendy, fashionable things," Yao Chu says.
The junior middle-school graduate says he left home out of a desire for independence from his parents and to experience urban living. He worked in a Beijing garment factory before moving to Chengdu in 2010.
Yao Chu is confident that even if one day he were to forget the Paijiao language, his peers in the village would ensure the continuation of their heritage.
His grandfather, Boben, however, does not share such optimism, saying few youngsters have any interest in Paijiao traditions. Taking their bamboo-made musical instrument, the qike, as an example, the old man says few young people can play it.
Ai Meng, deputy director of the ethnic and religious affairs bureau of Xishuangbanna, warns that ethnic cultures in this prefecture are under threat as more young people are receiving better education and migrating to cities.
"The problem is that they are separated from the very soil that has nurtured their ethnicity, when they go to middle or higher schools in towns and find jobs in cities," says Ai, an ethnic Blang.
Chen Ping, a researcher with the cultural center of Mengla county, also senses the challenge. This woman, who has been studying the Paijiao community since 2003, says she finds it hard to preserve its culture as modernization has pushed the tribe's unique traditions to the brink of extinction.
"Without prompt action, the traditions of Paijiao will die soon," she says. "But I think their (Paijiao people's) own consciousness of maintaining their ethnic identity is very important. Only this kind of awareness can help save their culture from disappearing."
Chen, an ethnic Dai, is now working with Yila and Boben on a collection that features the secret codes of the Paijiao people, who have no written language but weave various plants into different circular shapes to express specific ideas.
"The codes actually once served as their written language, which I believe is the very root of Paijiao culture. If the codes were to be lost one day, Paijiao culture would come to an end. Just a few Paijiao people know these code words, so we have to be quick," she says.
Chen says the Mengla county troupe is helping preserve Paijiao's dance by choreographing performances for a village group.
Chen also plans to propose that Paijiao traditions be included in the nation's list of intangible cultural heritage, but acknowledges that could be a challenge, with the required funding standing as the biggest obstacle for poverty-stricken Mengla.
What's more, the rich diversity of ethnic culture in Yunnan means intense competition for heritage listing. There are 26 ethnic groups and their sub-tribes in Yunnan.