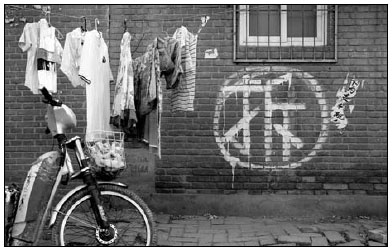 An old hutong house in Beijing, with the character "chai", meaning to demolish, on the wall. China Photo Press
In the run-up to the Beijing Olympics, the razing of centuries-old hutong, or the narrow alleys and courtyard residences that dot the capital, caused a hullabaloo among conservationists as they rallied to protect China's vanishing cultural heritage.
With modernity blazing through the city like an out of control steamroller, they argued, what will be left of China's past?
What I want to know is this: How many of those conservationists, or reporters, ever lived in an old, un-renovated hutong house?
Despite the quaint, otherworldly charms of some of the siheyuan, most of the demolished hutong dwellings, put simply, stank. Who wants to share hole-in-the-floor latrines, have rats and cockroaches as pets, or stoop to get in the front door?
Ditto for many of Shanghai's old houses and slums, which serve as huge eyesores when viewed from the heights of the city's myriad skyscrapers (the view is even better when holding a champagne flute in one hand, and fingering your M1NT membership card in the other).
Nope. Tear 'em all down, I say, and get on with building the new Chinese landscape. Out with the old, and in with the new CCTV headquarters, faux European mansions, and modernist architecture that blends Ming Dynasty (1368-1644) gardens with showers that work.
As Chairman Mao Zedong once said, "There is no construction without destruction."
Just don't forget to relocate the inhabitants of these anachronistic neighborhoods to somewhere nicer, where potpourri fragrances the air, rather than the smell of someone's half-digested xiaolongbao.
When I moved to Shanghai, I spent my first year in an expensive serviced apartment. It was heaven. I had two balconies, a wraparound sofa, three flat-screen TVs, a tennis court and a pool. Then, feeling as if I was cheating myself of the genuine China experience, I moved to an old lane house in the French Concession.
Except that it wasn't totally traditional, if I'm honest about it. It had two floors and two bathrooms. It had been "renovated". I didn't have to share the toilet, unlike my neighbors.
Despite this, the place never let me forget that it was 80 years old and fast heading to its grave. There was the leaking roof (it literally used to rain on my bed), cockroaches in the kitchen, blankets of dust like you wouldn't believe, and constant power outages.
Every day, the stench of grandma's wok-fried breakfast would swarm up the stairs, take my olfactory glands hostage and make my eyes bleed. Every day, one of the old ladies would shout at me to turn off the hall light, despite there being no switch outside my apartment allowing me to do so.
In terms of health and hygiene, there was no fire escape. If there was a fire, basically, we were all going to fry. The place wasn't just dirty. You could have raised an army of darkness from all that crud, if you knew the right incantation. The dust on one of the light bulbs outside my front door alone probably contained enough microbes to wipe out an entire solar system.
What I'm wondering is, do the hutong-huggers think about all this stuff when they converge for their annual get together? Is being 600 years old really a virtue?
I still remember our office tech guy, Lao Zhang, wagging his finger at me and saying, "Old houses - not worth the trouble."
After my Shanghai landlady decided to sell the place without giving me any notice (she'd come to the same conclusion as old Mr Zhang), he was preaching to the converted.
Not that I'm advocating destroying a country's natural and cultural heritage wholesale. But, I mean, isn't that why god invented museums? The new Museum of Art and Urbanity Shanghai (a treasure trove of Qing Dynasty houses) is a case in point.
The government obviously needs to consider the welfare of those who live in the old districts, while making sure such "landmarks" aren't torn down for the wrong reasons. Take the current controversy surrounding the destruction of old trees in a city in East China as an example of where the old should be protected against the new.
However, I don't see the reason to get out the hankies for Beijing's lost hutong just yet.
China is unrivalled in its ability to pump out cheap fakes, even if they are often spelt incorrectly and break after a few months. Public housing is an area where China has the opportunity to build new landscaping marvels modeled partly on the original, but with all the trimmings of 21st century plumbing, including sit-down toilets, as well as creative new ideas, environmentally friendly energy sources and, best of all, no cockroaches.