Learning to live in the community
Classes offer a way to get more out of your time in Beijing, Wang Wei reports.
Apart from being a housewife and taking care of the household chores, one of Cristina Greaney's favorite activities is attending classes at the Maizidian Community Services Center in the residential complex near where she lives. Greaney, who is Irish, came to Beijing with her husband two years ago. She now practices her Chinese at the community center every Tuesday with a dozen other expats under the guidance of a volunteer Chinese teacher.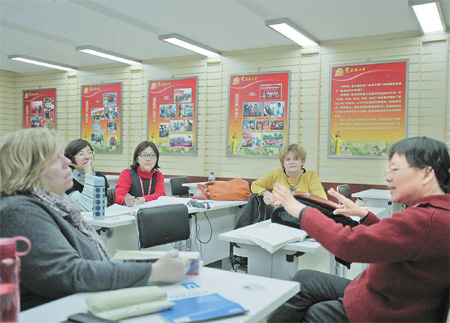 Volunteer teacher Zhao Xinrong (far right) leads a language class at the Maizidian Community Services Center in Chaoyang district. Zhang Tao / China Daily
Improving her Chinese is just one of the reasons Greaney comes to the center, more importantly, she wants to understand Beijing's rich culture and make friends with local people.
"I feel many Chinese are people who have stories to tell," said the 46-year-old housewife. "Meanwhile, they will ask me questions and are all interested in me as a person."
Launched in Sept 2010, the two-hour lessons take place every Monday and Tuesday, with around 15 participants, most of them are diplomats and their spouses from the nearby diplomatic residential compound.
"If they can speak some Chinese, their lives will be much easier," said Ye Chao, a staff worker at the center. "We want our foreign friends to live a comfortable and convenient live here."
As well as language lessons the classes also look at Chinese culture.
The class has covered the history of the Great Wall, Beijing Opera, shanshui (a style of Chinese landscape painting) and cloisonne enamels.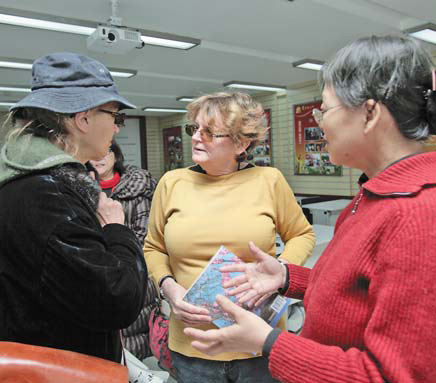 Teacher Zhao Xinrong (far right) chats with two foreigners at the Maizidian Community Services Center on March 1. Zhang Tao /China Daily
Carmel Bacon, the wife of an Australian diplomat, is a big fan of cloisonne antiques. She often goes to Panjiayuan antique market to buy pieces. With her newly acquired Chinese, she is able to communicate with the sellers about the background and prices of these antiques.
"I think the class is great. I will send out newsletters to let more people in the embassy know and join it," she said.
Inspired by American David Tool, a professor at Beijing International Studies University who is actively involved in correcting English mistranslations on the signs in Beijing, Zhao has determined to dedicate her retired life into bridging the language barriers between Beijing and foreign countries.
"David Tool, as a foreigner, has helped Chinese people to create a better English-speaking environment, so I think I have the responsibility to help expats to understand Beijing better," she said.
Some participants in the classs have a practical purpose in coming to the center.
Marissa C. Estipona, a housekeeper from the Philippines, has been learning Chinese in Maizidian Community since April 2010. Her job means she needs to be able to speak Chinese when shopping.
"I am very happy that I can be relatively fluent," she said. "Moreover, sometimes I run across Chinese people who ask me directions. I am very proud that I can give them directions in Chinese."
Maizidian community is home to about 3,000 foreigners and the Chinese lessons are just one of the services that it provides to foreign residents.
The community also arranges other classes, such as cooking, dancing, photography and drawing, and organizes celebrations for Spring Festival and the Dragon Boat Festival.
Those interested in attending a class at Maizidian Community Services Center can e-mail:mzdsfk@126.com