One-man crusade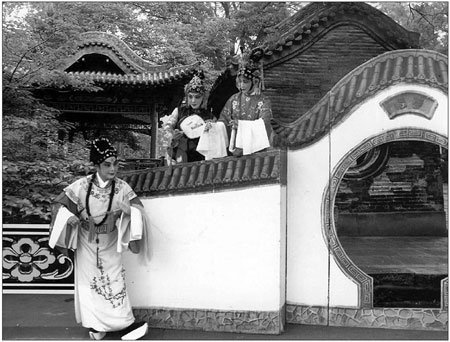 At 58, Hu Xinzhong is still active onstage, playing roles in Flower Drum operas, a local genre in Central China's Hubei province. Photos Provided to China Daily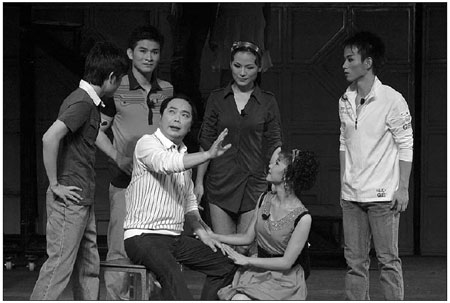 Hu Xinzhong rehearses with young Flower Drum Opera performers.
At 58, nation's only approved inheritor of Hubei's signature Flower Drum Opera is determined to ensure this tradition survives the passage of time. Xu Lin reports.
The Spring Festival holiday is Hu Xinzhong's busiest time of the year. In the first month of the lunar calendar, the 58-year-old Flower Drum (Huagu) Opera actor in Qianjiang, in Central China's Hubei province, usually holds a dozen performances for the locals. "I hold 60 to 80 performances each year,?says Hu, president of Hubei Experimental Flower Drum Opera Troupe. As one of the main Chinese operas in Hubei province, Jingzhou Flower Drum Opera originated from folk songs and dances in central Hubei and goes back some 180 years. It is also one of the nation's main Flower Drum operas. Hu, a national first-grade artist, has dedicated himself to the opera for 42 years, and has numerous achievements to his credit. As the opera's only approved inheritor, he feels it is his responsibility to not only promote the opera across the country but also train young performers.
He plans to bring the troupe's work Fairy Tales of Life, to Beijing in 2011. It won the Wenhua Prize, the top award for professional stage performances awarded by the Ministry of Culture, in 2010, and tells the story of a group of young performers rehearsing a play about relief work in quake-hit areas.
"I have no more than 10 lines, as the idea is to promote the troupe's young performers," he says.
He grew interested in Flower Drum Opera at an early age and would follow the adults to watch the opera.
In 1969, Qianjiang Flower Drum Opera Troupe (the original name of the troupe) was recruiting students and Hu and his older brother went to audition. When it turned out that only his brother was chosen, his mother insisted that either both boys should go or both should stay home.
"Thanks to my mother, I got a chance to learn the opera. Within half a year, I was playing the lead role," he says.
He soon outshone others and was chosen to be the hero in The Red Lantern, one of China's yangbanxi, or revolution-themed operas. Excited yet pressured, he practiced day and night for a whole month and won much praise for his performance.
He then rose to fame and performed more popular operas, such as the classic Under the Flower Wall, a love story involving a rich young lady and a poor scholar.
In the early 1980s, Hu and his wife would often carry their newborn twins on a shoulder pole to perform in the countryside. Villagers usually voluntarily offered them milk powder and eggs.
In 1984, the company's original play The Family Case saw 14 sold-out performances in Beijing. It is about a righteous police commissioner who sends his own son to prison. It was later performed by about 200 different opera companies.
In the 1990s, Hu played the lead in The Wilderness, which was based on playwright Cao Yu's eponymous work. Not only did he perform at Zhongnanhai (the Beijing compound of the nation's top leaders), but also he won the Plum Blossom Prize, China's top award for drama and opera artists.
"Songs are essential to a beautiful opera but the melody of the original Flower Drum Opera was monotonous, as there were only five notes," Hu says.
So he added fa and si to the notes, and also included some elements of Peking Opera and Huangmei Opera. The resulting music was seen as an improvement by many.
"I have four apprentices, but I'm still looking for someone who can be the opera's next inheritor. New talents are key to saving this kind of opera," he says.
But finding such talents is not easy. A golden voice, good-looking face, medium height, flexible body and gift for performance - the prerequisites of an opera artist - are not qualities that combine easily in one single person.
"Compared with other operas, Jingzhou Flower Drum Opera enjoys a relatively steady audience, mostly of people older than 40 and from the countryside," he says.
As it costs only 10 yuan ($1.5) to watch a performance, the tickets are always sold out. Also, thanks to government support, people in rural areas can even watch the opera for free.
Recently a group of about 400 fans of the opera, aged between 16 and 30, formed an online community to communicate and even invited Hu to perform.
"(But) generally, youngsters are losing interest in Chinese operas," Hu says. "They should be exposed more of it in school."
(China Daily 02/26/2011 page11)