No more tears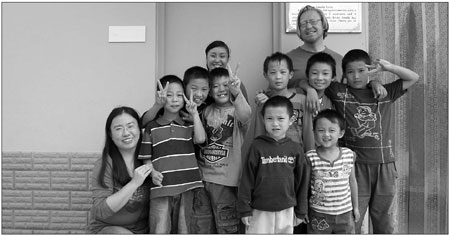 Koen Sevenants poses with children from a Morning Tears care center. Photos Provided to China Daily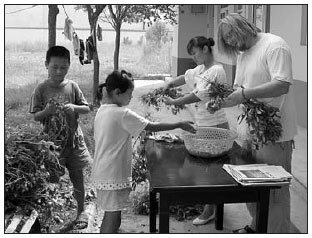 Koen Sevenants and kids make food for themselves at a Morning Tears center.
Belgian Koen Sevenants has brought hope to the lives of children of convicts who are at risk of joining nation's street children. Erik Nilsson reports.
Belgian Koen Sevenants is a beacon of hope for Chinese children of convicts, but that doesn't mean he doesn't have his moments of dark despair. Since 1999, the 39-year-old has been running the nonprofit Morning Tears, which assists children whose parents have been incarcerated. These kids do not qualify for government assistance in China, because they technically are not orphans.
In more than half of the cases, a mother killed an abusive father - often in front of the children. Police have little choice but to leave the kids alone at the crime scenes. And in most cases, nobody will take in the traumatized children because of the stigma attached to them.
"It is a group of children that very easily eats up all your emotional energy," Sevenants says.
"The story and pain of a single kid is enough to give you sleepless nights. Initially, none of us were prepared for the storm of emotions that was about to invade us. And the storm became stronger over the years."
There are more than 600,000 children of convicts in the country, Ministry of Justice figures show. About 300,000 of these are without caretakers, leaving them few options but to join the ranks of the country's 100,000 "street children", who beg and steal to survive, according to Ministry of Civil Affairs figures.
A few years after taking over a care center for children of convicts - previously operated by local judges, who had run out of money - in rural Xi'an, capital of Northwest China's Shaanxi province, Sevenants felt too overwhelmed to continue. He decided to stop running the center personally and instead provide financial support.
"We did find the finances, and we did drop out. That went well for about three weeks," he recalls.
"Then, we realized the emotional support we give the kids is actually as important as the financial aid."
He decided to take a year of unpaid leave from his post as head of Handicap International's China branch - it ended up being more than two years - to focus on expanding the organization.
The organization has since grown to employ 32 staff members and more than 100 volunteers, who assist two centers and five smaller projects in China that help more than 400 children. It has also established a presence in Belgium, the Netherlands, Denmark, France, Italy, Russia, Tanzania and South America.
Sevenants now divides most of his time between Belgium and China, while also bouncing among these other countries. "Politically speaking, it hasn't always been easy (in China)," Sevenants says.
"We only care about the children and would never get involved with the justice or prison systems. But this has not always been perceived as such by local officials. We had to gain trust over the years. This has had its ups and downs."
In April, 2010, the central government awarded the China Charity Award - the country's most prestigious honor for NGOs, which is given once every five years - to Morning Tears, after more than 340,000 members of the public voted for the organization.
"It was so surprising that more than half of the votes came from security people and police," Sevenants says.
"It was actually the first time they not only said, 'we cannot find anything wrong with what you guys do' but also, in a way, they said, 'We like you'."
Sevenants says he has often had to manage strained relationships with communities in which his organization operates.
"People think the children of criminals are criminals themselves. So, in the beginning, there is protest and absolutely no respect," he says.
"Then communities start to get involved. This gives a platform on which trust and sympathy - and, sometimes, even affection - can grow," he explains.
"But then, maybe, there is a fight in school in which our kids have been involved or one kid has stolen something. Then, we go five steps backward."
And Sevenants grapples with funding problems, which have worsened since the financial crisis.
But all of the hardships are worth it, Sevenants says.
"The most beautiful experience a human being can have is seeing that you actually played a major role in rebuilding a world for a child whose world was totally destroyed," he says.
"To the children I am like a mix of teddy bear, problem-solver, listening ear and musician."
Wang Wei, who lives in one of Morning Tears' care centers, says seeing Sevenants always makes him happy.
"He loves to play with us," the 9-year-old says. "He's not like the other adults. He's more like us - like a child."
Like Wang, 7-year-old Fang Meng has little inkling of the warrior role Sevenants performs for kids like him.
"I like Uncle Koen's hair," he says. "Whenever he comes to visit, he lets me put it in a ponytail."
Sevenants says his 5-year-old daughter Sofie, whom he and his wife adopted from South China, has been growing "a bit" jealous of the Morning Tears' kids.
"The kids who know Sofie love her," Sevenants says.
"She has started seeking exclusive attention from her father. But this will pass, I guess."
Caretaker Dao Nuoye says she has "never seen anyone as patient with the children" as Koen, despite the pressures he faces.
"The kids always surround him and climb on him like a bunch of monkeys, but he never loses his patience," she says.
"Sometimes, I want to know what made this man so patient that he never shows any negative feelings around the kids."
Sevenants explains the children he works with "continuously struggle with the question, 'Why me?'"
"The question reflects the total loss of control these children have over their lives," Sevenants says.
"We try to give them back some control in thousands of little details - decisions about the menu, what to play, the colors of the walls ... The question 'Why me?' isn't answered but becomes less important."
Some - but not all - of the children Sevenants started working with 13 years ago have become successful, happy adults, he says.
Among them is 21-year-old Li Zhuo.
"Koen isn't perfect, but meeting him was the best thing that happened in our lives," she says.
Zhang Yu, who grew up with Li in the Xi'an center, agrees.
"I never thought there would be a day I could love this world again," the 21-year-old says.
"When my world was dark, it was Koen who brought in light, who showed me a different world, who made me believe I still can choose what kind of life I live. He made me believe that to love and be loved are the best things in the world."
And this, Koen says, in turn, lights up the darkness he sometimes sees. "I merely have to close my eyes to realize why I am doing this," he says.
(China Daily 03/01/2011 page20)