Getting married later in life is a modern trend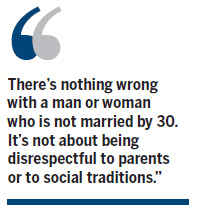 Marrying later in life is a very modern trend, not just in China but also in Europe, Japan and the United States. That's why articles in Chinese newspapers this month referring to people still not married by 30 as "leftovers" seem so, well, old-fashioned.
The articles, based on surveys conducted by Chinese health groups and medical associations, were about so-called expiration dates, suggesting greater risks of health and psychological problems for women who marry after the age of 27 and men who marry past 30.
Other countries measure getting married at a later age as a matter of economics and educational advancement. China is in the throes of rapid economic growth and placing enormous emphasis on advanced education for its young people. The cost of living is also rising.
So, by international standards, it's logical that the average age of marriage is higher than it was 10 or 20 years ago.
In Shanghai, the city's civil affairs bureau reported that the average age of marriage was 32.45 for men and 29.77 for women in 2010, up from 32 for men and 29 for women in 2007. There's no talk about "leftovers" in that report.
In other countries, studies point out that young people are almost three times as likely to divorce if they marry before the age of 27. So it makes sense that the Shanghai report also shows a slight decline in divorce rates. That's a good thing. So what's all the frustration about the recent survey in China?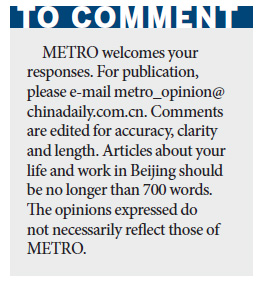 Some of those surveyed cited feeling lonely, financially insecure, anxious and weary, the same responses you'd get from many people - single or married, old or young - living and working in large, expensive, hyper-competitive cities.
Some respondents to the survey also said they feel anxious due to being pressured by parents or society to get married in their 20s, whether they've found the right mate or not. Could that just be a case of leftover thinking by parents?
There's nothing wrong with a man or woman who is not married by 30. It's not about being disrespectful to parents or to social traditions. It's certainly not a sure sign of pending poor health or psychological problems.
That doesn't mean that there's something wrong with people who get married in their 20s either. It's just as difficult to pinpoint an exact "due" date for people beyond the legal age of marriage as it is to pinpoint an "expiration" date. Everyone's different. And isn't marriage supposed to be about love, not just someone's age?
It's simply a fact that educated urban populations tend to marry later than previous generations in modern economies around the world, including China.
China Daily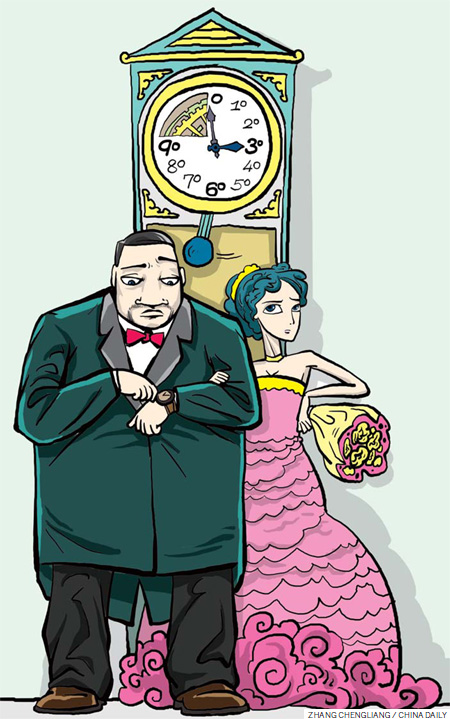 (China Daily 02/21/2011)