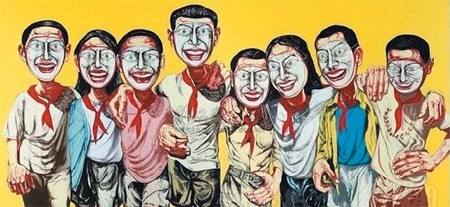 Artist Zeng Fanzhi's Mask Series 1996, Number 6. [Provided to China Daily]
Every generation sets its own rules.
In the 1970s, Chinese contemporary art didn't raise many pulses. Thirty years later, Chinese contemporary art is hot, with prices rising so fast that many believe it will crash before any other art sector.
Those in the art industry, however, are optimistic and do not believe a bubble will emerge. Unlike the first boom that began in 2005 and wilted in 2008 in the wake of the global financial crisis, there are those who expect a second boom, a theory supported by rising prices and shifting trends in purchases of art by Asians, especially mainland collectors.
Case in point: Auction sales in Hong Kong have quadrupled in the past five years as Chinese mainland collectors make their presence felt. Christie's Hong Kong art sales, for example, registered $1.8 million (1.3 million euros) 20 years ago. Last year, the total was $364 million. Sotheby's and Christie's hold biannual auctions in Hong Kong that are barometers of Asia's art market.
Eventually, prices for Chinese contemporary art will need to be corrected but mainland buyers have only just begun.
But the surge in art prices may attract more speculators and short-term investors. If the current rate of growth continues, we could be in the early stages of a second bubble in the Chinese contemporary art market, which this time will be inflated by strong Asian demand for high-yielding assets.
Artist Zeng Fanzhi's works have commanded prices that sailed past pre-sale estimates. Since 2008, the artist has held an auction record for the sale price of a Chinese contemporary artwork when his Mask Series 1996, Number 6 sold at Christie's Hong Kong for $9.7 million.
Other works by celebrated figures such as Liu Ye, Yue Minjun, Ai Weiwei, Zhang Xiaogang, Yu Youhan, and Mao Xuhui have sold well above their sale estimates and have set records for their works. In particular, works from the 1990s, a pivotal time in Chinese contemporary art, have been popular purchases.
Judging by auction results, mainland collectors are hungry for a piece of their country's recent art history. It also helps that many mainland buyers are richer than they were before, which has attracted art dealers to target Western works at mainland buyers.
What does all this mean to China, to Chinese contemporary art, and for Chinese culture?
The soaring auction prices of Chinese contemporary works are seen by many mainlanders as a sign that China is an economic powerhouse and is catching up with the United States. A selection of Chinese works can now command more money and are celebrated much more than certain Western artists, said Barbara Pollack, an art critic from the US who came to China in 2004 to observe the art scene.
China's developing economy, which has lifted millions out of poverty, has also allowed the country's artistic talents to fine-tune, experiment, and develop their works of art.
With more resources at their disposal, the artists have sent a message of their maturity, wisdom and self-confidence in their works.
Ai Weiwei's recently celebrated work titled Sunflower Seeds, for example, resonates not only as contemporary but also as a combination of mass production and traditional craftsmanship.
It invites us to look more closely at the "Made in China" phenomenon and the geopolitics of cultural and economic exchanges.
The engaging nature of his work also encourages us to consider pertinent questions about ourselves and our world: What does it mean to be an individual in today's society? Are we insignificant or powerless unless we act together? What do our increasing desires and materialism mean for the future?
Ai once said: "From a very young age I started to sense that an individual has to set an example in society. Your own acts and behavior tell the world who you are and at the same time what kind of society you think it should be."
Judging from the development of China's contemporary art scene, the nation could be a cultural force to be reckoned with in the 21st century in addition to being an economic giant.
Whether or not Western influences will embrace the new contemporary art scene in China, the maturity of Chinese artists will undoubtedly have an effect on the future of culture worldwide.
The author is a China Daily reporter.