Time to silence this dangerous tradition and ban the bangs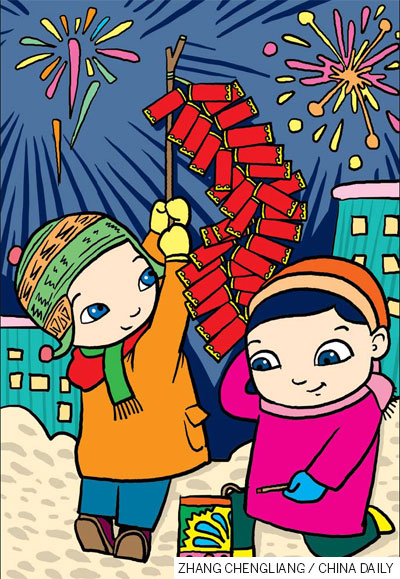 As people get together with their family members and celebrate the Chinese new year, fireworks play an important role in creating that uniquely exciting atmosphere. As the saying goes, though, every coin has two sides.
It's hard to ignore the fact that fireworks and firecrackers cause serious problems when it comes to the environment, as well as health and safety.
Firecrackers contribute a lot to air pollution in many cities. According to monitoring data collected by the Ministry of Environmental Protection, the air quality in 22 out of 86 cities, including Beijing, was reportedly "lightly polluted" on Feb 4, the second day of this year's Spring Festival.
Huangcun, a town in Daxing district, and Liangxiang in Fangshan district recorded the worst air pollution in Beijing.
In addition, two people were killed and more than 400 injured in accidents caused by fireworks between Feb 2 and Feb 7, according to figures released by the capital's authorities. The chief culprits are the large firecrackers, most of which are banned, in the capital at least. Fireworks also caused about 200 fire accidents as of Feb 7.
It's shocking to realize that, as we enjoy the wonderful sight of firecrackers, we're also being exposed to sulfur dioxide, nitric oxide, nitrogen dioxide and other poisonous gases, which over time can do long-term damage to eyes, as well as the human respiratory system, nervous system and cardiovascular system.
Potential illnesses laying dormant in our bodies could even be triggered or aggravated when we inhale these noxious gases.
Noise pollution is also a product of fireworks. The incessant explosions during the celebrations can cause many people to lose sleep, especially elderly people and infants.
Monitoring of pollution in 10 metropolises, including Beijing and Shanghai, showed noise levels can reach as high as 135 decibels in some areas. Officials with environmental protection bureaus say this far exceeds the tolerance and audibility range of most people.
Discharging firecrackers also inevitably leads to piles of rubbish, which contaminates waterways and soil, and is a huge burden for the nation's overworked street cleaners. By 9 am on Feb 3, the first day of lunar new year, the capital produced 58 tons of firecracker debris, according to official figures.
Beijing's changed its policy on firecrackers in September 2005 following calls from cultural experts to protect the ancient custom. It meant residents were allowed to let off them during Spring Festival and Lantern Festival (on Feb 17 this year).
However, in view of the current situation, I think it's time for the Beijing government to look at its policy again.
Collective public firework displays organized by authorities in charge of cultural and entertainment sectors is a better option right now to reduce pollution and the risks of private displays.
(China Daily 02/17/2011)