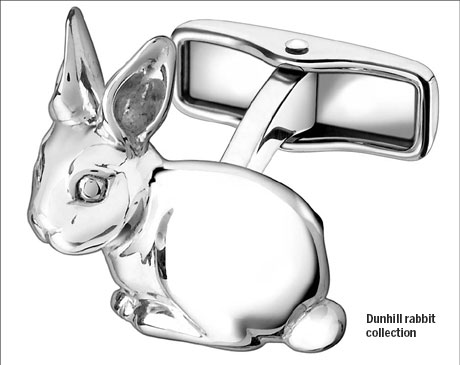 The start of the Year of the Rabbit on Thursday is getting Western designers all excited about using the bunny theme. Gan Tian reports.

You certainly will not see a Bunny Girl walking around, but as you will find out, there is a rabbit mania in the world of fashion. It is closely related to Alice-in-Wonderland fashion, where the White Rabbit takes the heroine into the wonderland.
Tom Ford, dressed like a rabbit, is in a rabbit hole. John Galliano is the Queen of Hearts, Christian Lacroix is having a mad tea party with Donatella Versace, Marc Jacobs and Karl Lagerfeld. These appeared in a series of photographer Annie Leibovitz's fashion shoots, published in Vogue in 2003. But in 2010, after American director Tim Burton's film Alice in Wonderland came out, another rabbit craze has burst out.
Greek accessory label Folli Follie immediately named its latest collection Wonderland, including rabbit and cat rings. There is a necklace with a young Alice's silhouette. And other international big names, such as Stella McCartney and diamond brand Swarovski, have rabbit decorations, together with teapots and hats.
At the start of the year, Danish accessory label Pilgrim introduced its latest collection to the mainland. The designs are based on illustrations in biology books. There are silver rabbit rings, earrings, necklaces and bracelets. Together with flower accessories, they create an idyllic style for the wearers.
"Our creations bring out the best part of Danish designs: simple, natural and lovely," says Annemette Markvad, founder and designer of Pilgrim. "We even use some natural materials, like woods."
Swiss watchmaker Swatch chooses an artist to collaborate with each year and picked Taiwan illustrator and picture book writer Jimmy Liao this year, launching My Rabbit Story watches before the Spring Festival.
The watch's design is based on Liao's latest book One More Day with You. A giant black rabbit, in the middle of the dial, is ready to jump, which means its wearers will jump forward closer to their dreams in the following year, the designer says. The belt is decorated with pink floral patterns, and the packing is red, carrying a big holiday mood. Priced at 410 yuan ($62), it is available in its boutique stores on the mainland.
Italian sports apparel manufacturer Lotto has a pair of red running shoes, inspired by traditional Chinese paper-cut art. Scarlet on the outside, the uppers of the shoe features thick white hairs, which can keep the wearers' feet warm. The packing box has several rabbits pattern, all made in paper-cut styles.
"The elements on this pair of shoes, including white hairs, red eyes and carrots, are all related to rabbits. Combined with paper-cuts, they create a typical traditional Chinese culture for our consumers," says Angel Qiao, Lotto China's footwear product manager.
German sportswear Puma has something modern. The company's Candy Rabbit Shoes have small cuter-than-cute rabbits illustrations, together with colorful candies and flowers. Suede shoes are hippie-inspired. They are all black, but a closer look reveals there is rabbit pattern of black patent leather on the vamps.
Puma has also launched a series of simple-colored tracksuits with rabbit logos.
Chinese legend says people who are born in the years of Rabbit are hardworking, smart and tender. They always make the right choice, so are considered to be the best business people. That is why British label Alfred Dunhill has produced its special rabbit collection, designed for high-end business people.
The collection includes key rings, mobile decorations and cufflinks. All hand-made from pure silver, these accessories are delicate in design. The must-buy item is a rabbit-pattern tie, silk on the outside and the finest wool inside.

(China Daily 02/02/2011 page8)