Drop in at the newly opened Porsche Design Studio store in Xiamen, Fujian province, and you will find a range of products - medical devices, running shoes, jewelry, fragrances, pocket knives, pens, tobacco pipes, coin purses and watches - that may seem quite ordinary at first.
But then you'll notice that the Bounce running shoe is the world's most expensive. The fragrances are similarly costly and exotic. The pen has a rhodium-plated 18-carat gold nib. And the coin purse is made of the finest leather.
Roland Heiler, Porsche Design Studio's managing director, says his store supplies nothing but "high-end products".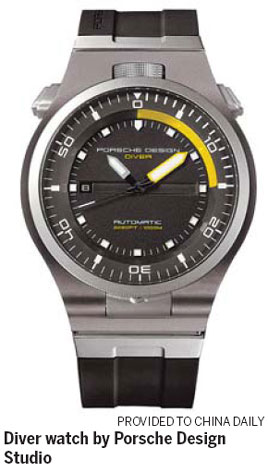 Porsche Design Studio is in charge of creating and developing products for the Porsche Design Group.
It already has 11 stores on the mainland, two of which are in Beijing, and the group is seeking to expand its presence, Heiler says.
"We are watching the market carefully. One thing we have noticed is that more wealthy people in China are interested in high-end products, which at the moment seem to be purchased from overseas," Heiler says.
He adds that "made-in-China" goods, in recent years, are more focused on quantity than design.
But this does not worry Heiler, as the studio's products are for more affluent clientele.
"They appreciate good quality, because they typically handle products from manufacturers in Europe and other areas known for their high standards," Heiler explains.
The studio hopes its products will provide an example to follow of high-end quality to some manufacturers in China, Heiler adds.
"Also, the group has an international strategy that includes China in a very important way," he says.
Porsche Design Studio was founded by the designer of the sports car Porsche 911, professor Ferdinand Alexander Porsche, in 1972.
While the car was a huge success, his other works have also attracted attention from all over the world.
Products include fashion, footwear and accessories, and encapsulate the typical high-end German design spirit: simple and functional.
"We have this style, which is very reduced, not so decorative, nor so much in your face," says Christian Schwamkrug, Porsche Design Studio's design director.
Their products have won several awards around the world, including the Red-dot Awards, iF Product Design Award and London International Award.
The Bounce shoes, for instance, offer 20 percent more cushioning and 15 percent more elasticity than normal shoes, giving runners maximum performance.
"It is design that users cannot see. They can only feel it when using it," Schwamkrug says.
Heiler says the recognition of design in China seems to be more focused on the exterior.
"What we would like to create is greater sensitivity, show that design is more than just a shape. It is also the function, quality, and the fact that you can enjoy the product for a long time," he says.
The group has more than 100 stores worldwide and is projected to have 250 by 2015.
Porsche Design Group also hopes to bring a design service to China.
China Daily
(China Daily 02/01/2011 page19)