New blood in China's home decoration and household items market has given a boost to fashion-savvy Chinese.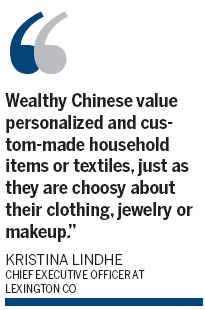 Wealthy Chinese value personalized and custom-made household items or textiles, just as they are choosy about their clothing, jewelry or makeup, says Kristina Lindhe, chief executive officer at fashion brand Lexington Co.
"People spend almost one-third of their lives at home. If you want to know someone, just visit their home," she says.
Headquartered in Sweden's capital, Stockholm, Lexington set up its first flagship store in Beijing, in December, at China World Mall, in the business district.
The company has a presence in more than 40 countries, with more than 900 stores, including an outlet in London's Harrods.
"The Lexington brand is devoted to creating a cheerful, casual, stylish and warm atmosphere at home," Lindhe says.
Hu Qijing, executive director and general manager of Lexington in China, says Chinese people have gotten used to working hard for money and then indulging themselves.
"Increasingly, they are getting fed up with such a material life and tend to stay at home. This is our target consumer group," he says.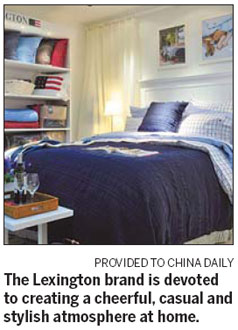 The Lexington brand was born in the town of the same name in the United States and offers a mix of Scandinavian and New England styles.
Lexington launches its collections based on the seasons. So during autumn and winter, designers adopt natural colors, with patterns ranging from flowers to the Stars and Stripes.
Its products are made using natural materials like tabbinet, flannel, cotton and Oxford fabrics. "Luxury is not about diamonds or gold, but nature," Lindhe says.
Hu adds the focus is ensuring the designs match other items produced by the brand. As such, it is easy to add new items to the home, like pillowcases or tablecloths.
Another core collection is for children, offering soft textures and fresh styles in light pink and pale blue, coordinated with the brand's core colors of red, white and navy blue, creating a peaceful and harmonious environment.
Hu says that Lexington is planning to open 30 to 40 stores in department stores or shopping malls in China's first-tier cities within the next three to five years.
China Daily
(China Daily 02/01/2011 page19)