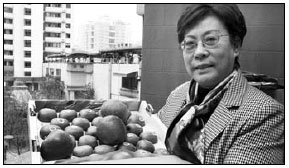 Shen Cuiying sells kiwifruit produced in Dujiangyan, Sichuan, to assist reconstruction of the quake-hit city. Provided to China Daily
Shen Cuiying, better known as "Shanghai grandma", has finally realized a promise she made two years ago. She has donated 100,000 yuan ($15,182) earned through her kiwifruit company to a charity fund she established to provide tuition for orphans in quake-hit Dujiangyan of Sichuan province.
Shen, a 63-year-old retired teacher, became a household name in Shanghai after the Sichuan earthquake in 2008, when she sold an apartment and donated 4.5 million yuan to Dujiangyan for a new school.
Following that, in 2009, Shen took out a mortgage on the apartment she was living in and used the 4 million yuan to establish a company that sold kiwifruit produced in Dujiangyan to assist in its reconstruction.
"The money I donated this time is not the profits of the company, as we haven't made any so far," Shen says.
"However, I promised to donate 0.05 yuan to the fund for each kiwifruit the company sold. I had to fulfill it," she says.
The company, which suffered a loss of more than 2 million yuan in 2009, was still facing losses of 710,000 yuan by September 2010, owing to difficulties with storage and transportation.
But, although the company's annual accounts are yet to be finalized, Shen says she will be able to cut the losses further thanks to the many orders before Spring Festival.
"I'm confident my company will start to turn a profit soon," she says.
And when that happens, she plans to channel 30 percent of the profits to the charity fund.
In November 2010, Shen enlarged her business by selling apples, jujubes and nuts from Kashi of the Xinjiang Uygur autonomous region.
"Compared with kiwifruits, these products, which are easier to preserve, are less risky for us," she says.
But new business also means longer working hours. Now she hardly leaves the office before 9 pm.
"The market in Shanghai is huge," she says.
China Daily
(China Daily 01/27/2011 page20)