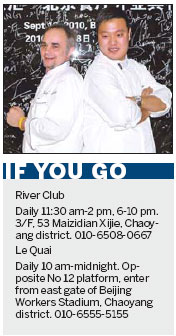 River Club's 2-Michelin-star chef Marco Sacco and Le Quai's chef Fu Yang came together to prepare a dinner on Jan 15 at River Club Italian Restaurant.
A full house of customers started the meal with a diced smoked salmon hamburger with a piece of bread soaked in old balsamic vinegar, garnished with onion rings and flavored mayonnaise. While almost every Western restaurant will have smoked salmon on its menu, Sacco's secret recipe made it a winner.
This was followed by two dishes prepared by Fu. His BBQ marinated foie gras with red wine marinated fig, accompanied by Chardonnay wine jelly, was clearly inspired by chashao, a sweet barbequed pork of South China.
Then came the delectable six-hour double-boiled spring chicken consomme with shrimp wonton. Both dishes were beautifully presented.
Sacco's carbonara "a la coque", with cheese and egg sauce and bacon, is an all-time classic. It was the best pasta I've ever had. The cheese and egg sauce came in a real egg, while one needed some hands-on work to shred the bacon, which added to the fun.
Fu followed it up with Peking hawthorn berry grenadine sorbet, and pistachio, a smooth ice cream. Then came a steamed codfish with savory crispy crushed yellow soybean and carrot crab sauce.
The codfish, presented like a piece of art, was super tender. But the crispy crushed yellow soybean, although a good idea, did not quite pair well with the fish.
The last main dish was chef Sacco's spicy red wine beef cheek, and grilled premium grass-fed beef fillet. The beef cheek was very soft, while the beef fillet was a quality piece of meat.
All the dishes were nicely paired with fantastic Italian wines.
(China Daily 01/22/2011 page12)