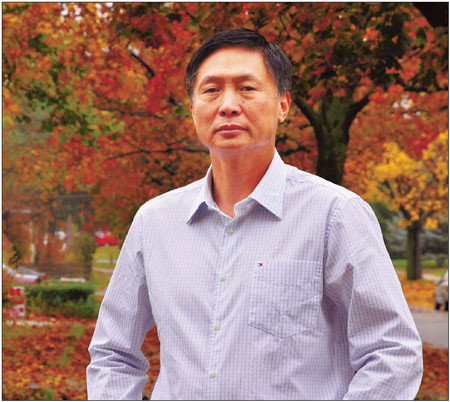 Life in a foreign land inspires writer Chen He, including his latest work Sarawak. Provided to China Daily

Chen He is representative of a new breed of overseas Chinese writers who are gaining attention because of their diverse experiences and broad worldview. Liu Zhihua reports.
It had been eight days since Jack Chen (Chen He) was kidnapped in Tirana, Albania's capital, and he was drowning in fear and desperation. The writer had been selling medicines in Tirana and was targeted by the kidnappers because they knew he had money.
"Those were the darkest days of my life. I tried hard to calm down, and not to think of my family. It killed me to think how they must be suffering," Chen says.
Born in Wenzhou, Zhejiang province, 1958, and originally named Chen Xiaowei, he read a lot of Chinese and foreign literary works when he was young, and dreamed of becoming a writer.
At the age of 26, he wrote his first short story, Sinking, telling about how a selfless lighthouse man burnt his beloved lighthouse on a stormy night to guide the boat of a young sailor.
"I was deeply moved. The paper was soaked with my tears when I finished the story," Chen says.
He sent the story to Literary Youth, a leading literary magazine in Zhejiang, with a penname, Chen He. It was published and brought Chen acclaim.
In a few years, he published five short stories and three medium-length novels, and was made vice-chairman of the Writers' Association of Wenzhou.
However, he decided to give up writing in 1994.
"I had no time and could only write at night. It was like trying to plant corn in a drought-stricken land: You have sown so much, but harvested so little. It felt bad and discouraging," says Chen, who was working as a publicity officer at a State-owned company.
He decided to become a businessman and traveled to Albania with a relative in 1994 to sell medicines from China, which were scarce and expensive in the turbulent country.
They soon made a fortune, but disaster struck in autumn 1998 when the relative returned to China for a holiday and Chen was at a party.
He got a call from a young man who said he wanted to buy a lot of medicines, so he returned to his empty pharmacy.
It turned out the young man had a gun and with the help of his associates they trussed Chen up like a mummy and threw him into an underground bomb shelter.
He was lucky. They demanded $200,000 ransom, but Albanian police rescued Chen eight days later, before the money was handed over.
It was during those dark days that Chen recalled his time in China as a writer and decided if he escaped he would do what he really loved, which was writing.
"When faced with death, it became obvious to me that what I really wanted to do was write, not make money," Chen says.
In 1999, Chen left for Toronto but had to temporarily shelve the idea of writing and make money.
"I wanted to resume writing immediately, but I had a family to support. It's difficult to make a living in an entirely different country," Chen says.
He started selling household commodities from China, invested in real estate and the stock market, and did well.
But, in 2005, feeling the writing itch once more, he made it a top priority.
"I'm inspired by what I have experienced abroad and I want to express my feelings and reflections of life," Chen says.
In 2006, Chen saw a TV interview about Chinese-Canadian veterans in World War II.
"I had no idea that Chinese-Canadians who went into battle were discriminated against. I became obsessed about what they must have gone through," Chen says.
After researching the situation he found Chinese were denied citizenship of Canada until 1947.
"Those veterans fought for Canada to demonstrate their loyalty and integrity, hoping to resolve misunderstanding and discrimination, and they succeeded."
He was inspired and wrote Sarawak, a novel about a Chinese-Canadian soldier called Zhou Tianhua, born in Vancouver's Chinatown.
Zhou and his Japanese-Canadian friends join the army to prove their loyalty to Canada. Zhou is trained as a spy but dies a hero during a mission in Sarawak, Malaysia.
"The story is fictional but not groundless. Zhou is based on the true stories of six Chinese-Canadian soldiers," Chen says.
"Those veterans made a big sacrifice. We should never forget them. That's why I wrote it."
The novel was published in October 2010, and received favorable comments from both critics and writers.
"Discovering the hidden but eternal glory of human emotions and values overlooked by others, that's what an author should do," says Tan Xiang, a council member of Association of Chinese Fiction.
Unlike most Chinese writers who primarily focus on the mainland, Chen is representative of a growing number of overseas Chinese authors who are beginning to gain international attention because of their rich experiences and broader worldview.
"I would never have experienced things that were beyond imagination if I had continued to stay in Wenzhou," Chen says.
His Albania experience bore fruit as a magazine story, A City in a Black and White Film, which was based on the story of his former interpreter, Elida. Her ex-boyfriend killed her after he lost his money in a financial scam.
The novella won the Yu Dafu Prize for Fiction, in December 2010 that was awarded by Jiang Nan, an influential literary magazine in Zhejiang.
It has been decades since he first started writing but it is only now that he is finally realizing his dream of being a best-selling novelist.
"I'm dropping business completely. Money is important, but I prefer to be a writer," Chen says.
(China Daily 01/21/2011 page19)