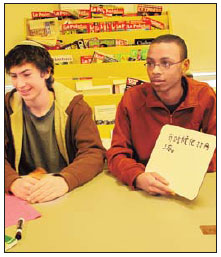 Lev Gray and Ferrin Williams at Walter Payton College Preparatory (Public) High School complete a sentence in Chinese.
The Confucius Institute in Chicago has become a rich educational resource for educators, parents and students for Chinese language and culture, says Jane Lu, the institute director and also coordinator of the Chinese World Language Program of Chicago Public Schools (CPS).
It is the largest Confucius Institute in the world and the only one for students in elementary and high schools, Lu says.
CPS, which supervises nearly 700 schools, introduced Chinese language learning into its world languages and international studies programs in 1999.
Chicago Mayor Richard M. Daley initiated the program.
"Chinese is as important as English as a language of commerce," Daley says repeatedly, adding that it is important to understand the role that China plays in the changing global economy.
In 1999, just three schools taught Chinese to a few hundred students. In 2006, Confucius Institute was established as "the only Chinese culture center in the world based in a high school", Daley says.
The institute is a partnership between the City of Chicago, Chinese Hanban and East China Normal University in Shanghai.
According to Lu, Chinese Hanban, since 2006, has donated over $800,000 in funds to the Chinese-language teaching program and over $800,000 in materials to CPS schools.
Over the past five years, Confucius Institute, now housed at Walter Payton College Preparatory (Public) High School, has expanded its library collection to include more than 10,000 print and multimedia materials for educators and students from all academic levels, Lu says.
Today, 25 elementary and 17 high schools provide Chinese language lessons, employing 58 full time Chinese language teachers. Some 12,000 public school students in Chicago are now learning Chinese.
For four years since 2007, the US Department of State has enabled CPS to send 20 juniors to Shanghai for a six-week intensive summer language program at East China Normal University in Shanghai.
CPS' Chinese language program also gained funding from the US Department of Defense from 2008 to 2010 so that it could send the best students to attend and improve their Chinese for four weeks during the summer at the University of Chicago, under the department's STARTALK program.
Moreover, students at Chicago public schools have done best in the advanced-placement program (AP) for Chinese language and culture, according to Robert A. Davis, Jr., executive director of Hanban Relationship and Initiatives with the US College Board's Midwestern Regional Office.
The AP Chinese language and culture program provides "willing and academically prepared students" with the opportunity to not only further pursue Chinese language studies in public schools but also earn college credits, Davis says.
Li Xiaobao, a Chinese language teacher at Jones College Prep, says the AP Chinese program has encouraged a number of her students to spend more time learning Chinese. AP Chinese language and Culture is the College Board's fastest growing AP world language program, Davis says.
Teaching Chinese as part of CPS' world languages program has become so successful that it now serves as the model to introduce Arabic and Russian language programs in the district, Jane Lu says.
China Daily
(China Daily 01/20/2011 page18)