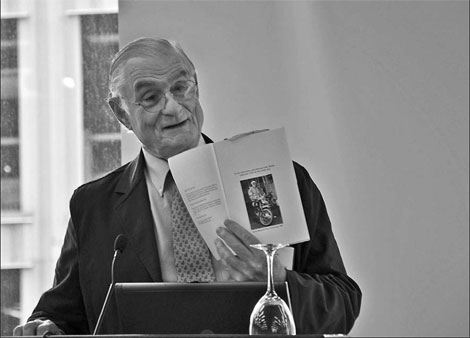 Nicholas Platt, a China specialist for more than 50 years, was on the trip that brought former president Richard Nixon to the country in 1972. Photos provided to China Daily
Diplomat Nicholas Platt has an insider's insight on the developing relationship between China and the US. Chen Weihua reports.
When former United States president Richard Nixon stepped off Air Force One during his historic visit to China on the sunny but cold day of Feb 21, 1972, Nicholas Platt, then a junior China specialist at the State Department videoed the famous handshake between Nixon and former Chinese premier Zhou Enlai.
For the then 35-year-od Platt, it was thrilling, partly because he had finally landed in the country he had studied for more than a decade.
He first heard about the trip on July 15, 1971, when Nixon announced Henry Kissinger's secret trip to Beijing and divulged that he would also visit China. Platt was with his wife Sheila and some colleagues, sitting around on their lawn at their house in Washington DC, listening to the radio.
"If we had not been lying down, we would have fallen to the ground," Platt recalls.
He was so thrilled that he wanted to toast to Nixon. "Our careers all depended on China and the US getting together, so we had a vested interest," Platt tells China Daily.
Platt's China story started in 1959 when the then foreign service officer who held a bachelor's degree in European history from Harvard and a master's degree in international relations from Johns Hopkins, where he learned German, was rejected for a post in Europe. His orders were to serve in the visa section of the US consulate in Windsor, Ontario, Canada.
When a friend suggested he study Chinese and seek opportunities in the Far East Bureau of the State Department, Platt was intrigued, despite the fact that there was no posting in China in the then post-McCarthy period.
"I decided that Chinese language training represented the perfect combination of interest, expense and opportunity," he recalls.
He applied for Chinese language training, but was turned down. So when the family was leaving for Windsor, the 23-year-old Platt had a plan in mind: He would issue visas during the day and read about China at night.
By the end of 1961, Platt had read all the China books he could get his hands on, including John Fairbank's history tome and Edgar Snow's Red Star Over China. "Then I became truly interested in China," he says.
He finally received two years of intensive Mandarin training in Taiwan and Washington DC, paving his way for an exciting career associated with China and Asia.
Armed with his knowledge of China and language skills, Platt started his new job, in 1964, at the mainland section of the American Consulate General in Hong Kong, the center of China watching during the 1960s.
"The process of watching China was, and still is, labor intensive. My colleagues and I read every newspaper we could get our hands on, including provincial publications smuggled into the colony wrapped around fish Refugees were debriefed and their stories written up," Platt says.
The hunger for information was so desperate that Platt and his colleagues were ready to buy meals for anyone who could provide even small snippets of intelligence information.
"It did not matter who or what you were, government official, newsman, or trader, if you had some knowledge or connection to offer, you were welcome at the table, literally," he says.
In his four and half years in Hong Kong, Platt was acquainted with China's political and cultural scene. His reports back to Washington included his interpretations of political campaigns arising from shows such as Hai Rui Resigns His Office and Peking Operas with revolutionary themes, such as The Red Attachment of Women, White-Haired Girl and Red Lantern.
While Platt watched China, his wife and three sons, whom they named Dahu, Erhu and Sanhu, meaning No 1 Tiger, No 2 Tiger and No 3 Tiger, were immersed in China's culture. Sanhu, or Nicholas Jr., was born in Hong Kong. Erhu, Oliver Platt, became a Hollywood actor.
Platt returned to Washington in 1968 and in the following year, he became the head of the Bureau of Intelligence and Research division that covered the Chinese mainland.
In Hong Kong, Platt reported what happened in China. In Washington, he helped decision-makers deal with policy issues.
Platt met many senior Chinese leaders during Nixon's historic trip. It was also the first time for him to meet the US president. It was late at night on Feb 28, 1972, when the Shanghai Communique was signed.
In his memoir, China Boys, Platt depicts Nixon as "sitting in a flowered silk dressing gown over an open-collar shirt and trousers, a long, fat cigar in one hand and a tall scotch and soda in the other. He looked drained but satisfied with what he had accomplished. What an extraordinary-looking man he was up close! Huge head, small body, duck feet, puffy cheeks, 'about three walnuts apiece', my notes indicated, and pendant jowls hanging down, the entire combination exuding authority".
Platt told Nixon that he had spent 10 years preparing for the trip and was grateful to him for making it happen.
"Well," Nixon said, "you China boys are going to have a lot more to do from now on."
About 14 months later, Platt went to Beijing via Shenzhen, then a fishing village, with his colleagues to open the US Liaison Office.
In Hong Kong and Washington, Platt was watching China. In Beijing, he biked across the city, observed and had close contacts with ordinary Chinese.
"Cycling broke the membrane of isolation surrounding foreign diplomats. During US Liaison Office's early months, we scheduled regular biking hours every Wednesday afternoon, the first and probably the last US diplomatic establishment to do such a thing," he recalls.
While Platt was applying his China expertise in the early stages of diplomatic engagement with China, a fatal traffic accident abruptly cut short his mission in China.
Platt was driving a red Toyota to the Great Wall when a teenage girl cyclist coming in the opposite direction swerved in front of him. Platt tried desperately to stop, but it was too late. The girl died several hours later, after Platt flagged down a truck and took her to hospital.
While Platt was ordered to leave the country, his boss, former ambassador David Bruce, comforted him, by saying, "The accident was awful for you, but a great break for your career."
"What?" responded a baffled Platt.
"Being a China specialist is a short mountain to climb. You are going to do some other things," Bruce said.
It was prescient advice. Platt's later diplomatic career made him not just a China hand, but an Asia hand. He worked in Tokyo and later became US ambassador to Zambia, the Philippines and Pakistan.
He continued to be involved in China affairs while serving in the State Department and Department of Defense.
In 1992, he became president of the Asia Society in New York, which his foreign service friends dubbed the "best embassy on Park Avenue". Platt calls his 12 years there as "the best job I had ever had, bar none".
Platt, now 74, says Nixon and Kissinger started the US-China relationship and delegated to professionals the nuts and bolts of the operation, such as sports, culture, trade, investment, education and scientific exchanges.
"Over the years the nuts and bolts fastened the structure of the US-China relationship. This became the US-China relationship. It was only in the last few years that we added strategic overlay in the relationship," he says.
Platt does not measure his optimism about the US-China from a short-term point of view.
"I look at where we started some 30 years ago. And it only makes sense to have a generally optimistic viewpoint if you see where we began and where we are now."
"Nobody had a clue way back then. I think the game goes to the optimists," Platt says.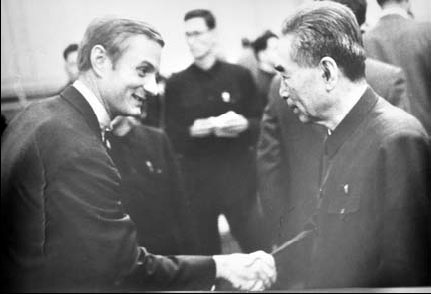 Platt greets former premier Zhou Enlai during the historic Nixon visit.
(China Daily 01/18/2011 page20)