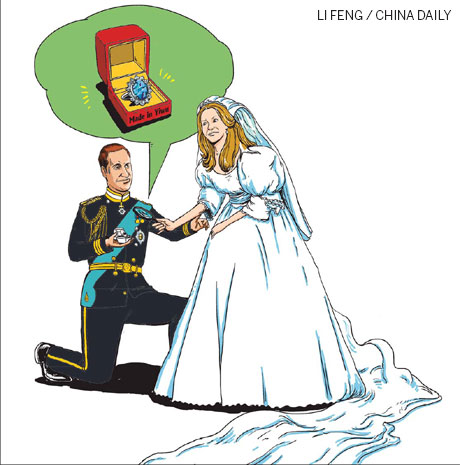 Entrepreneur Zhou Mingwang realizes there is money to be made from royal ring replicas. Xu Junqian reports.
The sapphire and diamond engagement ring given by Prince William to his fiancee Kate Middleton in 2010 is unarguably one of the most famous rings in the world. But the ring has also proved to be a ringing success for a Chinese entrepreneur in Yiwu, Zhejiang province. Zhou Mingwang, the 31-year-old high-school dropout turned entrepreneur, was not a fan of the British royal family until he watched the engagement of the couple in November 2010.
More than the buzz about the royal couple, what caught Zhou's fancy were the pictures of the engagement ring, which belonged to the late princess Diana, the prince's mother.
The original ring is, of course, priceless and irreplaceable. But Zhou realized that there was a business opportunity if he could replicate the model.
"The moment I saw the pictures (of the ring), I realized it would be a money-spinner," Zhou says.
But it was not going to be an easy task to translate his idea into reality. Ming Wang, the company set up by Zhou was until then just another of the many jewelry units in Yiwu.
Convinced about his plan Zhou and his team of designers then created a computer-generated image of a replica ring. In his model, Zhou replaced the oval blue sapphire with a zirconium stone and used 14 crystals instead of diamonds.
The clincher of course would be the pricing. Unlike the hugely expensive royal ring, Zhou knew he had to make his ring affordable to make profits. Accordingly he decided to price his ring at about US$3.
Two days after he posted images of the ring replicas on his company website chinamingwang.cn, Zhou received an order for 10,000 pieces from a British importer for immediate delivery. Soon 10 more orders from other importers followed. The first batch of replica rings were then shipped to buyers in the United Kingdom and Australia, where businessmen are making hay by selling royal souvenirs ahead of the wedding day.
The orders kept coming and Zhou was hailed as a star in Yiwu, a town of fast-thinking entrepreneurs. Zhou, however, feels that such undue publicity is unnecessary, as he does not cater to the domestic audience. His worries are not unfounded, as counterfeits have dented many businessmen's fortunes.
"In Yiwu, it is not unusual to make a replica of anything within one day, sometimes based on nothing more than the picture of the original product. This is the game in town," says Zhou, who went to Yiwu five years ago to establish his factory in the world's largest gift and souvenir production base.
Zhou has a team of 30 employees who work through the year, while managerial responsibilities are shared by his spouse.
The company clocked a 20 percent growth in annual revenue in 2010 to more than 7 million yuan (US$1.06 million). "We expect a big jump in revenue in 2011, thanks to the prince and princess," says Zhou.
But Zhou is also quick to point out that his company's performance is only slightly better than competitors. There are around 4,000 factories that make accessory products in Yiwu with a combined annual output of 15 billion yuan.
Zhou moved to Yiwu to look for opportunities to start his own business after leaving his factory job in Wenzhou, a cradle for manufacturing tycoons.
"I try to keep myself informed on the latest global trends by thoroughly reading the world news online every morning," says Zhou.
Sitting in his cramped office in a plain factory building on the outskirts of Yiwu, Zhou is also keen to share the secrets of his success with others. "The only way to make it in this town is to be quicker than your competitors in spotting opportunities and converting them into cash," he says.
"There are other jewelry makers in Yiwu who are also thinking of business opportunities from the royal wedding. Some of them may have already acted. But I was the fastest off the mark," says Zhou.
Reports from the provincial jewelry association indicated that at least 10 factories, including Zhou's, are making and selling replicas of the famous ring.
Prince William's wedding is expected to help the British economy with souvenirs sales and tourist income likely to exceed 1 billion pounds (US$1.58 billion). British Prime Minister David Cameron has already announced that April 29, the wedding day, will be a national holiday.
Zhou's sister Wanling believes that like other Wenzhou entrepreneurs, he too was born with a strong business instinct. Like most other Wenzhou people, "my brother talks about making money all the time, at family gatherings, social functions or over a drink with friends".
But Zhou maintains that he's not the money grabber type. "I have my standards," he says. For instance, he refused to follow his competitors in producing cups and plates with the images of prince William and his prospective bride because he didn't want to infringe on other people's portrait rights. I consulted legal professionals before making the rings and they told me it won't have any copyright or other problems as long as I don't try to pass them off as the real stuff," he adds.
To be absolutely safe, he made some minute alterations to distinguish his replica from the real ring. "You may not notice them, but they are there."
With more than three months to go before the wedding day, Zhou is worried that he can't make the replica rings fast enough to meet overseas orders as production might suffer due to the Chinese New Year holidays. "Since there is nothing I can do about it, I guess I will spend the holiday in Wenzhou with my family and old friends."
Come April, "I am thinking of going to London with my wife to share the excitement of the royal wedding. It will be our first overseas trip together and I think I owe it to her," Zhou says.