With 2010 behind us, it's time to look ahead to what 2011 might hold, and think about the things we'd like to achieve.
This first week of 2011 has seen me running around frantically, trying to plan and pack for a holiday with my wife, Ellen. We're going to visit my family in Adelaide, South Australia. It'll be Ellen's first trip to Australia, and her second ever on an airplane, so she's a little nervous.
She's also a little mystified as to what to pack. It's the depths of winter here in Tianjin, but in Adelaide it's a bright and burning summer. I've been gently taking the down jackets, long johns and woolly jumpers out of her suitcase, and replacing them with T-shirts and shorts, to save her from being roasted alive.

Her nerves about flying are a little harder to calm, especially since I told her that statistically she's more likely to be hit by a bus than to be involved in an accident on the plane. Given the local traffic conditions, she's more worried than ever that we won't even make it to the airport
I'm just happy that I've marked my exam papers, and passed on the results to the dean. This year, thanks to their hard work and effort, none of my students failed my course. Well, none but the one student who didn't show up for the exam.
Marking exam papers isn't easy, and can require a fair bit of interpretation as to what a student means when they write their answer down on the paper. I had to invest in a magnifying glass just to read some students' answers - you'd think they'd want me to be able to read them, and so write them clearly and proudly on the paper!
Aside from size, there's the terrible problem of spelling. Given that I was only testing my students' listening skills, I'm not terribly fussed by exact spelling, but sometimes I had to call Ellen over to see if she could work out what had been set down on the page.
Still, exams are behind me for another few months at least, and I can concentrate on the serious task of having some fun before Tianjin Medical University starts teaching again.
During our holiday, I'm going to introduce Ellen to as many aspects of Australian culture as I can, to show her that the stories I've told her about my life there aren't wild fairytales. She still can't believe that kangaroos roam wild across the country, or that on some legs of our journey she'll see more sheep than people, but I'm hoping she'll have a great time finding out. I know I will enjoy showing her.
When we return, it will be to Spring Festival here in Tianjin, and we'll spend as much of it as we can with Ellen's parents. This year I am determined to be able to produce far better dumplings than last year.
The year ahead offers so much promise and potential, it's almost a palpable sensation. It's a time to make new beginnings, and redouble old efforts, make changes and keep old promises. Ellen and I are certainly looking forward to seeing what lies ahead.
I'm hoping that all of China Daily's readers will have the chance to do new and different things, and that you all have a very happy, safe and prosperous 2011.
China Daily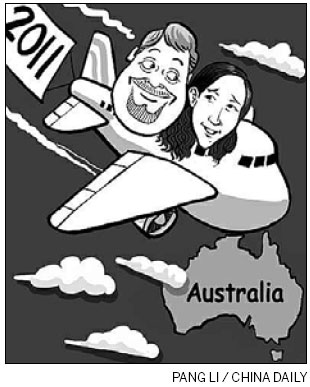 (China Daily 01/04/2011 page20)