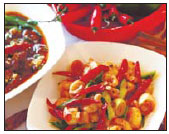 Beijing
Sichuan cuisine
Turn up the heat with pepper-packed plates of Sichuan food at Scene a Caf, China World Hotel, through January. Experience the richness and diversity of traditional Sichuan cuisine at the restaurant's lunch and dinner buffet.
010-6505-2266 Ext 35
In the mood for love
Have a romantic dinner at CRU Steakhouse, JW Marriott Beijing, on Valentine's Day, with a set menu including two glasses of Mumm Champagne, candles and roses, accompanied by live music, for 888 yuan ($134) per couple. Or take it further and stay in a luxury suite with breakfast in bed for 2,688 yuan a couple.
010-5908-8995
Dinner with a view
Enjoy a meal on New Year's Day at Grill 79 on the 79th floor of China World Summit Wing, Beijing's highest dining venue, with a thrilling view of the city skyline. Lunch is a four-course set meal with free flow of Moet et Chandon champagne, 888 yuan; and dinner, a six-course affair at 2,011 yuan.
010-8571-6459
Spring Festival classics
From Jan 22 to 28, Elements at Hilton Beijing will serve up a special all-you-can-eat buffet featuring Spring Festival classics such as traditional dumplings and niangao (rice cake). The hotel also offers a wide selection of Chinese New Year gift baskets.
010-5865-5020
Festival flavors
Chef Yannick Ehrsam at Le Pr Lenotre Frenche restaurant, Sofitel Wanda Beijing, offers guests new flavors. The new a la carte menu has delicious pigeon, and its famous goose liver prepared in a variety of ways.
010-8599-6666
Mix 'n' match at Traders
Traders Hotel, Beijing, will relaunch T-Bazaar on Jan 11. A caf with a food bazaar, it will showcase a popular healthy dining concept, and incorporates five counters - fresh and crunch; noodle and congee island; grilled roasted and fried; soup sense; and Asian delight. Guests are invited to enjoy the "mix and match" concept at T-Bazaar from 6 am to 11 pm.
010-6505-2277 Ext 35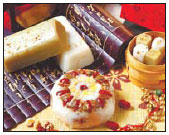 Shanghai
Rice cake kit
Niangao, the Chinese New Year cake, is a traditional holiday dish for Spring Festival. Hilton Shanghai has prepared the delicacy made from glutinous rice in a deluxe kit, making it a sweet gift for friends and business associates. Priced at 198 yuan per box, the rice cake kit features two Hilton rice cakes (sweet osmanthus flavor and coconut flavor) and one Hilton "eight treasure" rice pudding.
021-6248-7777 Ext 1760
Pure romance
On Feb 14, the elegant Jing'an Restaurant at the Puli Hotel and Spa will set the mood by dimming the lights and arousing the senses with its Valentine's Day three-course "pure romance" set dinner menu, which is designed to imbue passion while maintaining a lightness of touch that flirts with the senses. The set menu features a choice of three different entres, main courses and desserts. Exquisite dishes include caramelised butternut soup with spices, crab tortellini with tomato and butter and thick cut striploin with red wine poached egg.
021-2216-6988
Chinese New Year gift box
The celebration of the Chinese Spring Festival is one of China's most revered traditions. Treat your family and friends with a stylish rice cake gift box prepared by Hyatt on the Bund with authentic flavors for just 188 yuan each. The gift box is also the perfect choice for corporate gifts.
021-6393-1234 Ext 6398
Winter soup
The fine dining T'ang Court at the Langham Yangtze Boutique Shanghai features a wide choice of authentic Cantonese double boiled soups for the upcoming winter months of January and February. The special menu features double boiled beef shank with Chinese yam and medlar, doubled boiled black bone chicken with ginseng, which are beneficial during the winter season. The winter soup menu is priced at 48 yuan, with 15 percent surcharge.
021-6080-0733
New Year dinner
Celebrate the Chinese New Year with your friends and family at Central International Hotel Shanghai from 2,388 yuan per table. The Chinese restaurant of the hotel features authentic Cantonese cuisine and local Shanghai flavor. Guests' favorites include roasted duck, shrimp balls and double stewed chicken soup.
021-6181-5888 Ext 6753/6720/6301
(China Daily 01/01/2011 page10)