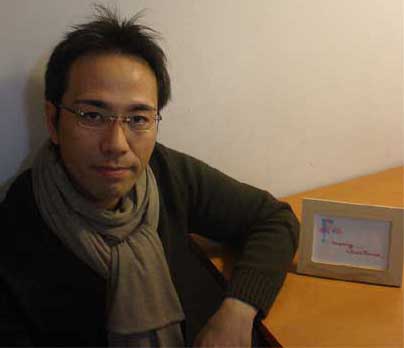 A file photo of Nishimura Yusaku. [Provided to China Daily]
Nishimura Yusaku, a Japanese student who just graduated from the University of International Business and Economics (UIBE) in Beijing and is now the first foreign teacher hired by the top business college of China, spoke like a native Chinese.

And to be precise, he spoke like a dictionary of Beijing dialect.
Using a lot of rhotic suffix "er" such as "gemen'er" (buddy), "mei shi'er" (It doesn't matter) and "wan'er" (play, have fun), the bespectacled man with a well-defined face and dense eyebrows was flawless in his speech and could convince anyone that he was a native Beijinger "yemen'er"(man).
The 36-year-old doctorate in finance has spent eight years at UIBE learning Chinese and studying finance, after his first brief visit to Shenzhen, in southern China's Guangdong province in 1995 and subsequent one year's study at Beijing Technology and Business University.
"When I first visited China in Shenzhen in 1995 on an exchange program between my university in Japan and Shenzhen University, I was deeply fascinated by the economic vitality demonstrated in this reform and opening-up window of China. It was amazing. It was at this time that I made up my mind that I would someday come to China again to study and realize my Chinese Dream," Nishimura said.
It was also on his first trip to China that kindled Nishimura's passion for Chinese.
"I couldn't speak any Chinese when I visited Shenzhen, and when I saw some of my companions could communicate in Chinese, I was so envious," he said. "I wanted to speak good Mandarin, too."
He made the trip a year later in 1996, when he decided to choose a financial college where Japanese students were few in number.
"It's not wise to choose a college filled with your countrymen if you really want to learn a foreign language," he explained. "Living in an unfamiliar all-Chinese environment forced me to use the language. And it worked."
The Japanese man, who is now working as a researcher of international investment at the Institute of International Economy of UIBE, beamed with excitement and pride while sharing his experience of becoming "Mr. China."
Learning Chinese and even Chinese culture is not an easy thing for most foreigners. But Nishimura had his own method.
"When it comes to studying Mandarin, Fengdao (director Feng Xiaogang) is my headmaster and Gedaye (famous Chinese actor Ge You) is my head teacher," he joked.
"As a fan of their movies, I use their works as my Chinese learning material. I find humor in the lines. The language use is vivid and lively. It fascinated me," he said in fluent Mandarin with a strong "Jingqiang" (Beijing accent).
"I imitated Ge You's lines in those movies, such as Party A Party B (Jiafangyifang), Be There Or Be Square (Bujianbusan) and If You Are the One (Feichengwurao)."
"I imitated whatever Gedaye said. He spoke a sentence. I would follow him," he said. "I also enjoy the style of Director Feng's movies and his way of showing human care about society. Most of his movies are about small things. But you can see big themes in them."
Nishimura's obsession with Chinese movies is not accidental. He was a fan of Jackie Chan when he was a schoolboy. Drunken Boxing (Zuiquan) and Police Story (Jingchagushi), starring Chan, were his initial encounters with Chinese culture.
The expatriate, who boasted of owning more than 400 DVDs of Chinese movies, also studies in his own method of how to command the language, which he concluded is a combination of learning from class, movies and practice with classmates. And to watch the so-called New Year greeting films, including If You Are the One 2 (Feichengwurao 2), Let the Bullet Fly (Rangzidanfei), was already on his agenda.
When asked why most foreigners find Mandarin difficult to learn, he cited the history and culture behind the language as the main reason.
"Many Chinese idioms have stories behind them. You need to have a clear picture of the story before you can understand the true meaning of the idiom. That can be difficult for foreigners," he said.
Spending more than eight years transforming himself from a person who couldn't utter a Chinese word to a true Beijinger, Nishimura couldn't realize his Chinese Dream without the influence and support of his mother.
When speaking of his mother, who lives by herself in Japan, the man with masculine features was full of respect and love.
"My father went into a vegetative state after suffering a brain hemorrhage when I was only 2 years old. My mother was around his sickbed for 25 years until he died in 2000," he recalled. "She never gave up. She was so strong and determined. Twenty-five years is really a long period of time."
"My mother's spirit of not fearing difficulties influenced me a lot. I thought about my mother whenever I encountered hardships in China. No difficulties I met could compare with hers. She sets an example for me and illuminates my life."
As the only child in the family, Nishimura was hesitant about extending his stay in China after finishing his studies at Beijing Technology and Business University in 1997, because of his sick father. "I couldn't afford not being around him if anything happened," he said.
"So I talked to my mother and decided to go back. After my father passed away, I talked to my mother again and told her I still wanted to come back to China to fulfill my dream. She gave me her nod of approval and supported me. "
He succeeded in his application for a national exchange program funded by the Chinese government in 2002 and finished his doctorate program at UIBE in 2010.
With the financial support offered by this program, Nishimura has been able to concentrate on his studies in China without any financial concerns.
Nishimura's efforts were rewarded by a series of awards he won in scientific research and academic performance, among which he placed second in "National Doctoral Forum 2008" organized by the Ministry of Education and State Council.
However, the expatriate's fondness for China goes far beyond Chinese words. Chinese food, especially Sichuan cuisine and Beijing BaoDu'er (boiled slices of cow or sheep's stomach eaten with sesame sauce), satisfy his taste buds. Chinese hospitality and kindness are also why Nishimura prefers a long stay here. But marrying a Chinese girl is not something he considers a sign of his affection for China.
"My girlfriend is Japanese. Romantic relationship is not something you can control. I can't make a frame and find something to fit it," he said.
As for his decision to work in China, Nishimura had a definite answer: that seeking work in China was his only option and he never thought about returning home.
"I'm very lucky to be recruited by the university where I studied for eight years. I hope I can play a role in increasing the academic communication between China and Japan."