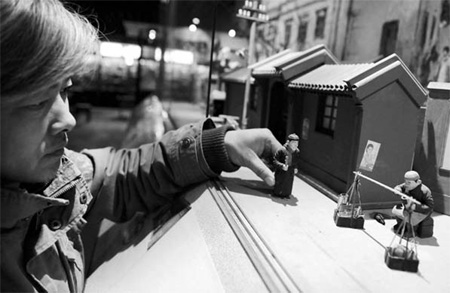 Zhang Yujun, a self-taught Beijing artist, admires clay figures in a miniature hutong, in his folk art museum in this file photo taken on Nov 13. The miniature vividly illustrates the life of local Beijing residents in the 1930s. Ouyang Xiaofei / for China Daily
BEIJING - As the construction boom keeps sweeping away vast swaths of hutong neighborhoods, craftsman Zhang Yujun has been rebuilding them piece by piece.
On a much smaller scale, of course.
Far from the hustle and bustle of downtown, his 100-meter-long handmade miniature of old Beijing hutong brings the city to life in a two-story museum and has earned him the nickname "Hutong Zhang".
"This is real Beijing, my dear hometown! I felt like I was back in my childhood again," Wang Yongli wrote in the visitors' book that has recorded hundreds of comments over the last several years at the Hutong Zhang Beijing Folk Art Museum, hidden away at the Fifth Ring Road in Wanping town in Fengtai district.
The miniature offers a vivid illustration of the bustling scenes and life of local residents in the 1930s: pipe-smoking old men sitting around a chessboard, a cobbler hunched over a pair of worn cloth shoes, a boy hawking newspapers in the street, or people taking a stroll holding caged songbirds.
Dozens of clay figures of rickshaws, carts and limousines travel the narrow alleyways, taking visitors down memory lane. "But all my efforts over these years are likely to be in vain," 49-year-old Beijing native Zhang said.
Within a month the whole miniature will be dismantled, and along with other collections will be packed and sent to a temporarily rented bungalow in a village.
"The lease expires in December. If I can't find a sponsor, I'll have to close the museum," said the silver-haired craftsman with a frown.
The sixth generation of a traditional Manchu family, Zhang lived in a hutong in the downtown Chongwen district - now part of the Dongcheng district - for 26 years before the courtyard was torn down to make way for commercial development in the late 1980s.
"In a hutong, everyone knows his neighbors, and people look out for one another," Zhang recalled nostalgically, admitting that he misses the bygone years in the hutong and courtyards.
"No doubt high-rises have their advantages, but courtyards and hutong are volumes of the city's history, written in brick and beams," he lamented.
"What's being lost isn't just the architecture, but the dense social network within it."
In 1991, Zhang gave up his job as a graphic designer at a State-owned post office and devoted himself body and soul to the preservation of traditional customs.
At first he opened a crafts shop on Wangfujing Street and began to collect old toys and make traditional-style Beijing toys. He then made clay figures representing old Beijing, from courtyard houses to Peking Opera masks.
In late 1997, Zhang decided to mold his love for hutong into a 100-meter-long miniature street.
After seven years of collecting information from books and photos, stories from the older generation and countless days and nights in his studio, the self-taught artist finally brought old Beijing back to life.
"No draft was needed. They are engraved in my mind. It was like Chinese wash painting," Zhang recalled, his face beaming.
Harboring a dream to share the hutong with more people, Zhang and his partner invested more than 1 million yuan ($139,000) to open the museum in 2007.
Zhang only charges 10 yuan for each visitor, and 5 yuan for seniors.
Yet a shortage of funds is a perpetual headache.
Depending on his wife's monthly pension of 1,600 yuan and his own savings, Zhang uses every means to make both ends meet: turn off the lights during the off season; stop using air conditioning or heating; sell handicrafts at expos; and cut staff from 13 to two.
But all this is far from enough to pay the bills.
"The government issued a statute that encourages individuals and legal persons to open and run museums, but it has not yet said how private museums will be helped," Zhang said.
Private museums complement State-run ones, just as hutong culture supplements the royal culture illustrated by the Forbidden City or the Summer Palace, Zhang continued.
When asked what he would do if the museum was shut down in a month, Zhang looked around at his collection and paused for a moment.
"Life is like a symphony, isn't it, with all those chapters and sections? I have spent the past 10 years writing this chapter and it's time to start a new one."
China Daily
(China Daily 12/07/2010 page2)