Double Crane with linzhi jade pendant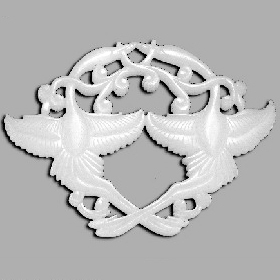 This collection was produced during the Jin dynasty (1115-1234). It has a height of 6cm, width of 8.2cm, and thickness of 0.6cm. It was unearthed from the ShiGuo grave in Fangshan, Beijing. Now in the position of the Capital Museum, the jade pendant is fine and glossy, by way of hollow engravings and intaglio, making a pair of cranes, face to face, mouth to linzhi. Their legs are crossed. It seems very symmetrical. Crane is a lucky bird, but during the Jin dynasty it was rare to see the crane as the subject of jade pendants. This jade pendant is simple and neat, a treasure of Jin dynasty jade manufacturing.
Eagle-shaped gold crown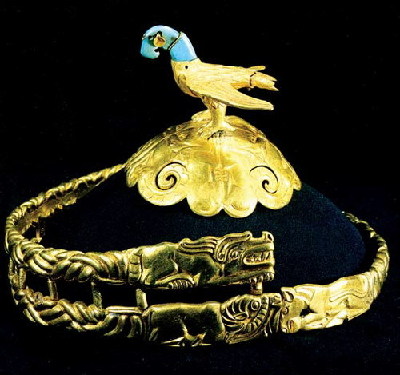 This collection was produced during the Warring States period and unearthed from the Xiongnu grave in Hangjinqi, Inner Mongolia. At the top of the Crown is an eagle spreading its wings, and in the middle is a painting of four wolves, four sheep, a tiger, sheep and horsey. The technological level of this gold crown is high. It represents the highest level of precious metal manufacturing technology of Xiongnu in the Warring States period.