Most performers of Peking Opera begin training at 7. Iranian Ghaffar Pourazar began at nearly five times that age.
"I was a big joke in the basic training class. I was 32, most of my classmates were kids and the youngest was only 6," he recalls with a smile.
This former computer animator, who was educated in Britain, is said to be the first foreigner to undergo and complete formal training in Peking Opera.
Every morning in Beijing's Wanfangting Park in Fengtai district, he can be seen tossing an assortment of swords and sticks in the air, challenging his vocal chords and testing his body with gravity-defying acrobatics. He is perfecting the moves to play the classic Peking Opera role of Monkey King.
Pourazar fell in love with Peking Opera one summer evening in 1993 at a performance by the Beijing Youth Troupe at London's Queen Elizabeth Hall. "I couldn't believe my eyes," says the 48-year-old.
He followed the troupe and ended up in Beijing. Without telling his parents, he enrolled in a Beijing opera school. That marked the start of a determined mission to take this ancient Chinese performance art to the West.
Pourazar has not only translated and performed an English version of Journey to the West, one of the four great classical novels of China, but also combined Shakespeare and other Western masterpieces with Peking Opera.
He also directs the International Center for Beijing Opera, and the International Monkey King Troupe which he founded. They enroll both Chinese professionals and foreign amateurs and have performed in many countries such as the United States, Malaysia, Singapore, the UK and Iran.
"Last year we visited 14 US universities, and set off a renaissance in Peking Opera that greatly raised the awareness of how entertaining and exciting it can be," Pourazar says. His many successes over the past 16 years, studying and performing Peking Opera, have not been without pain, says Lang Lang, one of his Chinese friends.
"Can you imagine a foreigner who can barely speak Chinese actually performing Peking Opera on stage in China?"
But Pourazar was determined to put in hard work and soon had the respect of the veterans.
Zhou Jingsheng, an actor with the Beijing Opera Troupe, recalls his surprise when he first visited Pourazar's home in Beijing.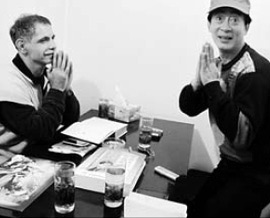 Ghaffar Pourazar and Liu Xiao Ling Tong in a friendly chat.
It was more like a training room with costumes, books, magazines and DVDs about Peking Opera scattered everywhere.
"His determination and perseverance give us very little excuse to cut slack or give up," says Ma Younian, a veteran performer whom Pourazar consults often.
Zhang Jinlai, better know by his stage name Liu Xiao Ling Tong, rose to fame after starring as the Monkey King in the TV drama Journey to the West.
He, too, is all praise for Pourazar's performance. "He has grasped the spirit of the monkey," he says. "With a few lines painted on his face, he looks just like the Monkey King."
After Pourazar graduated from Beijing Opera Troupe in 1996, he moved on to a post-graduate program at the National Academy for Traditional Chinese Opera.
However, he laments that "the popularity of Peking Opera is fading with young Chinese more attracted to rock 'n' roll, hip-hop, R&B, pop music and disco". Unable to make ends meet with performances, he teaches English twice a week.
"My mission is to make Peking Opera accessible to a worldwide audience. It is one of the most marvelous arts in the world. Its charm will come back one day."
Next April, he might have a chance to share the stage with Liu Xiao Ling Tong, in Huai'an, Jiangsu province. Huai'an is the hometown of Wu Cheng'en, who authored Journey to the West in the 16th century.