Qi Baishi and his paintings with unique style
On June 28, 2009,the renowned painter Qi Baishi's work, "Mouse and Cat with Lamp", was sold for RMB 4.48 million at the 18th China Guardian Quarterly Auction.
In this painting, a mouse is standing on the top of a long pole where a lamp is hung. Under the pole is a cat. Despite the images simple composition, the dynamic and motionless elements are both there, creating an explosive situation. The images of mouse and cat contrast sharply with each other, which evokes a hearty laugh.

 "Mouse and Cat with Lamp"
Moreover, the inscription on this picture is intriguing: "Last night I lit the lamp early and planed to go to bed soon. Since I'm poor, I put too little oil into the lamp to feed the mouse sufficiently. When the cat sneaked in, the oil had been gone and the lamp burned out."
Qi Baishi (1864 - 1957), also known as Ch'i Pai-shih in the western literature, is perhaps the most well-known contemporary Chinese painter for the whimsical, often playful style of his watercolor works.
Brief Introduction to Qi's Life
Qi was born to a low-income family from Xiangtan, Hunan Province, and lived with his parents, grandparents, and eight younger sisters and brothers. He went to school for less than a year due to illness. Many poor families in China during that period would have their children work with them on the farm, but Baishi was too weak to do much of the work. Therefore at 14, he became a carpenter.
While growing up, he came upon Drawing in the Garden of Mustard Seeds, sometimes known as Jieziyuan Huapu, a manual of Chinese painting complied during the early Qing Dynasty. This book sparked Qi's interest in art and painting. Later on, he learned to paint by himself.
When Qi was in his twenties, there was a need for artists who could paint family portraits. He signed up for the job and decided to become a professional painter. He started learning from other painters and reading relevant texts.
Between 1902 and 1909, on invitation of friends, he travelled around in China, visiting famous scenic spots, meeting many people of different social status, and saw paintings by senior distinguished artists with his own eyes. This experience has widely broadened his horizon.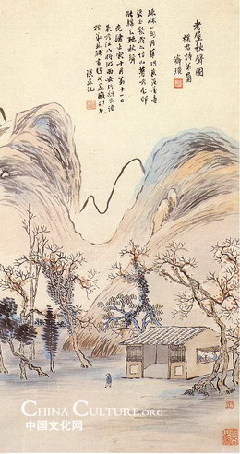 "Old House in Autumn"
After all of Baishi's travels, he built a house and settled down in Beijing. He began writing poetry about and painting some of the mountains he saw. These paintings became a series of fifty landscape pictures known as Jie Shan Tu Juan.
It wasn't until Baishi was in his mid-fifties that he was regarded as a mature painter. His lines in painting became sharper and the subject matter in his works changed from an animal-life base to a more plant-life base.
In his later years, he continued to make "later-year innovations", when many of his works depict mice, shrimp, or birds. In 1953 he was elected to the president of the Association of Chinese Artists.
On September 16, 1957, Qi died in Beijing at the venerable age of ninety-six.
Characteristics of Qi's Works
Some of Qi's major influences include the early Qing Dynasty (1644-1911) painter Bada Shanren (or Zhu Da) and the Ming Dynasty (1368-1644) artist Xu Wei.
Baishi had his own philosophy on painting which read: "In speech, use language that people can understand. In painting, depict things that people have seen".