In 1986, the media again led the trend: a report Yellow Skirts Are Prevalent in Beijing from China Textile Newspaper meant yellow skirts were soon popular across the country. In the late 1980s, short skirts were gradually embraced by Chinese women, who later became accustomed to wearing them with sweaters during spring and autumn. At that time, copying styles was the way to stay in fashion, and girls were not embarrassed to all dress the same.
During the late 1980s, fashion shows became a major component of people's cultural life. As well as professional models, people were deeply interested in organizing amateur teams for the elderly and children. Chinese fashion gradually became integrated with global trends.
Individual Styles
Since the 1990s, a sewing machine has no longer been a vital necessity for most Chinese families. Chinese people started to buy ready-made clothes, and most work in the once-booming tailor shops now involves altering garments. China has become the world's largest manufacturer and consumer of clothing. Large cities not only feature various domestic and overseas famous brand franchise stores, but also countless stands selling low-cost clothes. Consumers, especially young people, prefer roaming garment markets and dressing distinctively. "I can dress anyway I like" has become the prevalent attitude. Wearing the same clothes or colors as others now makes people embarrassed. A fashion magazine summed up the globalization of fashion: it is no surprise that a fashionable dress issued in Milan or Paris one day is being worn by women in Beijing or Shanghai the next.
For youths, stars' dress sense has a considerable influence over their choice of apparel. Unlike their parents, they wear casual outfits without hesitation. The prevalence of color in men's wear has fundamentally altered China's formerly drab attire. Moreover, the changes in women's wear have confounded the older generation. The fashion for slip dresses, for example, was in the making for nearly two years. Initially they were worn with coats. As coats became simplified, the dress' material becomes more and more transparent and light. The slip dress started to be really popular around 1998, and is still in vogue now.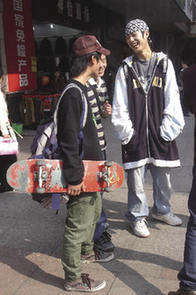 Hip-hop and skater styles are now a craze among some urban youngsters.
People's dress sense has become a matter of personal taste and individual personality. As well as style, material is an important factor. Natural materials such as pure cotton are quite popular. Expensive ones like cashmere have also entered ordinary people's lives, while some fashionable stars are now promoting the ethics of dressing. "It is a disgrace to dress me up at the cost of an animal's life," said popular Chinese actress Sun Li, who never wears fur and was awarded the "2008 Best Dressed" by People for the Ethical Treatment of Animals, an international animal rights organization.
In line with the growth of national power, people's confidence and sense of pride to their own culture has also increased. Movie star Maggie Cheung wore over 20 cheongsams in the popular film In the Mood for Love, which gave Chinese women a feel for the beauty of traditional Chinese clothing. Cheongsams have consequently become a favorite style once again. Showing little resemblance to the cheongsams of the Qing Dynasty (1644-1911), today's dresses reveal not only the distinctive elegance and tenderness of Chinese women, but also their graceful posture. Revised Chinese jackets have also enjoyed a resurgence in popularity after world leaders were photographed wearing Tang-style suits at the APEC meeting in Shanghai in 2001.
People who love Chinese classical culture have advocated the campaign for Han Dynasty costumes. They believe stylish Chinese styles actually embody the characteristics of ethnic minorities in north China, but not the genuine clothing of the Han majority, which impressed people with its free and elegant feel. Participants in the campaign are mainly young people born in the 1980s and 1990s.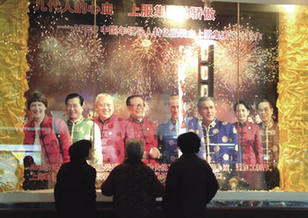 World leaders were photographed wearing Tang-style suits at the APEC meeting in Shanghai in 2001. This photo displayed in a shop window attracted Shanghai citizens.
As illustrated above, nearly every decade has seen Chinese society remade to an astonishing extent, which can be traced through clothing: from cheongsams to the People's Suit, "Lenin Coat" to military uniforms, etc. Garments tell the story of China's modern history.