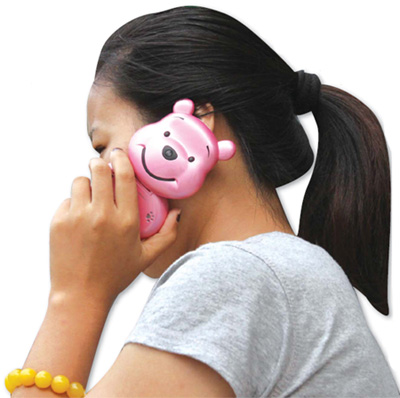 Creation is the key to surviving the highly competitive cellphone market, such as this winnie-the-pooh. Jiang Dong 
Fierce competition is transforming the shanzhaiji - or "mountain village mobile phones" - market and its cultural impact.
For years, most users used "shanzhai" to just mean "fake". But the vicious rivalry among shanzhaiji manufacturers is shifting the industry from imitation to innovation. With more than 10,000 black market handset makers in Shenzhen alone pushing units for profits of 10 to 20 yuan ($1.5-3) apiece, low revenues and high competition means shanzhaiji makers must now get creative to survive.
"Shanzhai mobile phones have shown pretty impressive innovation in terms of technology, appearance and manufacturability, which find no parallels," says principal of Newport Technologies Karl Weaver, who specializes in shanzhaiji.
"A lot of unusual technologies and designs are combined together. These combinations bring out a wild variety of functions, although most infringe on the original manufacturer in some way."
China is the world's largest handset market with about 650 million mobile users and another 8.52 million sets sold every month. Last year, about 250 million shanzhaiji entered the market, Weaver says.
In Beijing's Zhongguancun electronics market, vendors peddle fake Nokia phones with electric shavers and two SIM card slots - features the real brand doesn't offer. 3G iPhone replicas with exteriors identical to the real devices are sold for 400 yuan compared to $299. Others are printed with names like "Sunyericcsun".
But there are also quirkier contraptions, such as mobiles shaped like cigarettes packs resembling those of Panda, Baisha and "Marlbara" brands. Users can put up to seven cigarettes inside. Others are shaped like automobiles, such as Ferraris, BMWs and Hummers.
Big Thunder phones are built with eight speakers. The Big Cannon Paparazzo also features a 6X telescopic lens for its 1.3 megapixel camera, a 3-inch touch-screen with Chinese handwriting recognition, double SIM slots, an additional MicroSD slot, Bluetooth, MP3 player, and a money authentication reader able to distinguish real banknotes from fakes.
The golden Buddha Heart and Karma model, which resembles a temple ornament, even comes with a certificate to prove it has been blessed by monks.
"You can call shanzhai convenient creativity," says shanzhai expert Scully Meng, editorial assistant of the London-based NGO China Dialogue.
 "They create it but do so based on something that's already been created by someone else. I think people are getting tired of big brands and a certain way of life, and this is a way to express themselves."
She also points out that shanzhai innovation isn't only about developing new technology, but also fulfilling people's needs.
Weaver believes the "genius" handsets with shaving razors designed for on-the-go hygiene demonstrate how shanzhai phones often meet needs overlooked by major brands.
"The R&D at Motorola, it's happening in the laboratory. It's not close to life," he says.
But the problem, experts and consumers agree, is quality. While shanzhaiji have incredible functionality and affordability, they often don't work well or last long.
Because the market is unregulated, batteries can explode, and special absorption rates (SAR) of electromagnetism, which could harm the brain, can reach unsafe levels.
But a recent test by Shenzhen Communications Association and Shenzhen Electronic Product Quality Test Center of 12 randomly selected shanzhai mobiles and three brand mobiles, including top international manufacturers Nokia and Samsung, found the "shanzhai mobiles are close in quality to their rival brand firms".
Yao Feng, business operation specialist of China Mobile, explains shanzhaiji often charge users hidden, illegal operating fees.
"It has some negative impacts on operators and on normal users," he says.
"When users press the buttons, nobody knows what's behind those buttons,."
Director of Shenzhen Communications Association Tang Ruijin believes, "quality is not the main problem that shanzhai mobile firms have to face during their development; the key point is standardized management".
Weaver believes the best shanzhaiji companies could become legitimate firms.
"We are witnessing the rise of the hacker-entrepreneurs; it's a classic Silicon Valley legend brought to the back alleys of Shenzhen," he says.
"Today's shanzhai handset vendors have a real chance to move from back alleys to boardrooms - the possibility exists to create a global brand."
The most famous example of such a firm has been Tianyu, a shanzhaiji maker that leads domestic manufacturers, holding 16 percent of the market in Q4 2008, according to CCID consulting.
Beijing taxi driver Liu Xiaoan says he only buys Tianyu mobiles. He bought his A93 for 600 yuan ($87.8).
"It looks good and the quality's good," he says.
Nokia's head of brand protection Lucy Nichols explains the company is able to contend with licensed shanzhai firms, such as Tianyu, or those who make whimsical non-brand machines. Nokia dominates China's handset market, holding 38.9 percent of it in Q4 2008.
"Nokia doesn't object to legitimate competition," Nichols says.
"Nokia's fortunate in that we have such a wide range of products, including reasonably priced ones."
She says the shanzhaiji variety that hurts her company and consumers comes in the form of convincing counterfeits that dupe buyers.
"They think they're buying a brand promise in terms of quality and reliability until they take it home," Nichols says.
"If they're not aware they've got a counterfeit, that does do damage to the brand."
Nichols declines to comment on the Shenzhen quality tests, saying she wasn't familiar with the report and needed more information.
She explains the shanzhaiji boom hasn't changed the way Nokia prices or innovates.
Nokia combats counterfeiters through an intellectual property rights enforcement program. It also cooperates with government agencies, including Customs, quality control watchdogs and public security bureaus, at various levels.
"We get very good results," she says. "China's enforcement agencies are some of the most successful and effective."
Still, places such as Zhongguancun and Beijing's Yashow market are rife with Nokia knockoffs.
Pan Zhibin, manager of Yashow's stall No 4124, explains it's the most popular counterfeit brand among Chinese customers.
"Most like the N95, because it looks like it's the real expensive phone, and then the Nokia 6301, because it's small and easy to use," she says. The real N95 retails for $396 on Nokia's US website, while Pan's go for 680 yuan on first offer. She sells her version of the Nokia 6301, which Nokia doesn't price online, for 500 yuan.