Where silkworms appear as food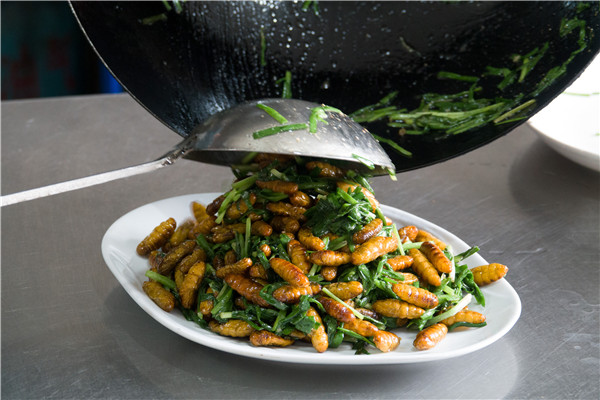 Qian Linqiang presents his signature dish of deep-fried pupae with fresh leeks, one of the "10 must-have dishes" of Tongxiang, the city in which Wuzhen is located. [Photo by Gao Erqiang/China Daily]
"Eating pupae is very environment-friendly," Ni says.
"It's also cheap. I'm mostly recycling from my father's business." The mom-and-pop restaurant sells over 100 kilograms of silkworms every year.
The deep-fried pupae are sauteed with fresh leeks and served for 18 yuan a plate, making them cheaper than a local taxi ride.
The dish was awarded among the "10 must-have dishes" of Tongxiang, the city in which Wuzhen is located, last year, along with other more famous offerings like red-braised lamb and soy sauce-marinated duck.
The award was based on the votes of both tourists and local chefs.
Business has steadily picked up since. Family of Silkworm Keepers claims to be the only place in Tongxiang serving the pupae.
"Bugs have more protein than beef," Ni says.
"I think it's just a matter of time before many insects find regular places on dining tables. And silkworms could be the first since we're a country known for making silk."
Shandong province is the colloquially known as the "farm" of China's entomophagy. The industry generates over 1 billion yuan in the province annually.
Yunnan province's edible insects are as diverse and expensive as its mushrooms.
And Jiangsu province's Lianyungang city hosts a yearly festival dedicated to dining on hawk moths. A local chef has been named as a national-level inheritor of intangible cultural heritage for the techniques he uses to prepare the bugs.
But Ni and her husband admit they rarely eat silkworms themselves.
"We spend too much time cooking and serving them," she says.