Fenjiu Group liquor to be served at Euro-Asia Economic Forum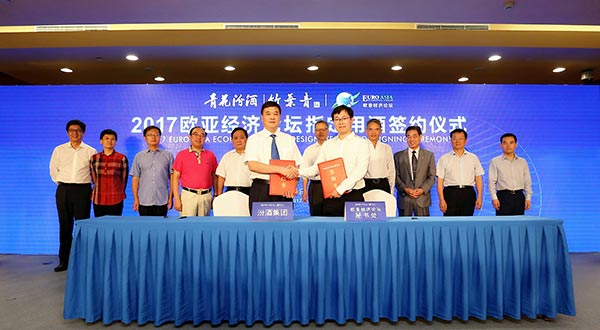 [Photo provided to China Daily]
The Fenjiu Group and the organizing committee of 2017 Euro-Asia Economic Forum recently held a ceremony in Beijing to designate the group's Qinghua Fenjiu and Zhuyeqing as the official liquor that will be served for the forum.
The liquor's package showcases Chinese aesthetics.
For example, Qinghua Fenjiu will come in a blue-and-white porcelain container with traditional Chinese calligraphy on it.
The forum will be held in Xi'an, Shaanxi province, from Sept 21 to 23, with about 40 round tables and meetings on topics such as finance, culture and tourism.
Set up in 2005, the forum is officially regarded as a platform to promote the Belt and Road Initiative.
He Yafei, the former vice-minister of the Ministry of Foreign Affairs, said at the ceremony that the forum offers great opportunities to Chinese corporations to go global.
He said that as a typical representative of Chinese liquor, Fenjiu is the purveyor of Chinese culture.
According to Li Qiuxi, the director of the Fenjiu Group, as early as in Ming Dynasty (1368-1644), merchants from Shanxi traveled to Europe along the Silk Road and engaged in trade with Europeans, with goods such as Fenjiu.