Organic tea planters sow seeds of a more sustainable future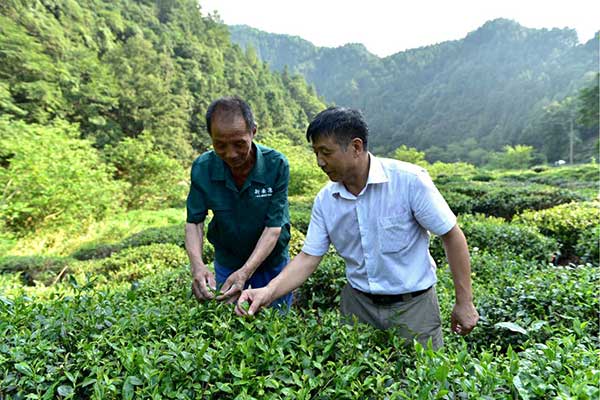 Fang Guoqiang (right), president of the Xin'anyuan Organic Tea Development company, instructs a grower in a field.[Photo by Sun Sheng/For China Daily]
Perched at the source of the Xin'an River, one of China's least-polluted waterways, Youlong village boasts the perfect environment for a tea garden.
The 1,200-year-old village in Huangshan city's Xiuning county in Anhui province - long known for its lush scenery - is a center for the cultivation of organic tea.
One of China's first organic tea planters, Fang Guoqiang, president of Huangshan Xin'anyuan Organic Tea Development, has played a key role in the village's transformation over the past 20 years.
Fang made his fortune cutting and selling wood in Xiuning. Back in 1985, he could earn up to 36,000 yuan ($5,400) a week at a time when most villagers still lived a hand-to-mouth existence.
The turning point came in 1988, when some wealthy businesspeople offered a considerable sum of money for 16 ancient Masson pines in Youlong. The village's Party chief at the time, Zhang Jinzong, fought to protect the trees. The old man's resolve awakened Fang's environmental awareness, and he started thinking more about planting than cutting.
Zhang's firm stance also affected the villagers, who started to see a link between their poverty and the fact that they were always taking from nature and seldom giving anything back.
Fang made friends with an international trader, Li Shengfu, who told him that the village environment was perfect for producing high-quality tea. Fang was inspired.
In 1997, Fang founded his company, which focuses on organic tea planting and processing. He organized local farmers to plant the tea, providing them with technological guidance and subsidies.
"At first, no tea gardens were qualified for organic tea. I spent a lot of time and energy persuading the farmers not to use pesticides or chemical fertilizers, and promised that we would pay higher prices to buy their yields if they followed strict planting rules," Fang said.