Chilean leader celebrates wines, new biography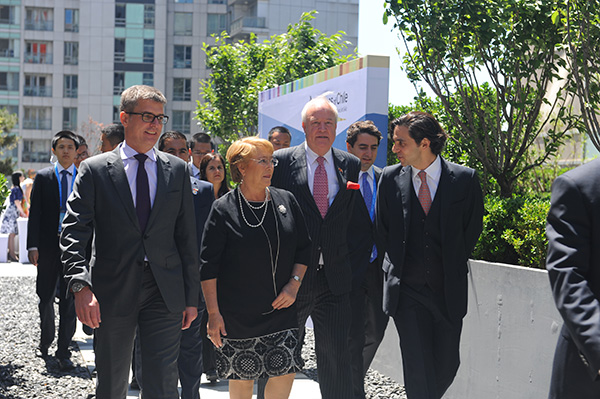 Chile's President Michelle Bachelet (second from left) photographed during a State visit in Beijing. [Photo provided to China Daily]
Chile's President Michelle Bachelet, making a State visit to Beijing in the Belt and Road forum over the weekend, was feted by the Chilean community and its business associates in China on Saturday.
At the event, a kickoff for the Wines of Chile China Roadshow, Bachelet told guests at the Hilton Beijing that her ancestors were wine merchants who migrated from Chassagne-Montrachet in France to Chile in the 19th century, and became winemakers in their new homeland.
Since a free-trade agreement was signed between China and Chile in 2006, Chilean wine has enjoyed huge expansion in the Chinese market, becoming the number-three wine-exporting country to China after France and Australia. Chilean wines enjoyed a growth of 76 percent by volume and 73 percent in value exporting to China from 2014 to 2016, according to Wines of Chile.
"We have 26 wineries here to show our wines," Bachelet said.
"We celebrate the richness of our land and the hard work of our growers. We are also a country that is not afraid of new challenges," she added, noting that Chile is producing wines from new grapes, beyond the Bordeaux favorites, and more organic wines.
"China and Chile have this in common: We love wine," said Julio Alonso, president of Wines of Chile in China. "And if you love wine, you love Chile." The weeklong roadshow continues this week in Xiamen, Hangzhou, Nanjing and Dalian.
A week ago, a recent biography of Bachelet was released in a Chinese edition by China Social Science Press. Chilean Ambassador Jorge Heine, who hosted the book launch at the embassy in Beijing, said the book will introduce the contemporary development of Chile and the important role that the country plays on the world stage during the presidency of Michelle Bachelet to Chinese readers.
Heine told China Daily that the biography is more than an academic or political study, it's a good story for everyday readers.
"Michelle Bachelet has a tremendous personal story," he said. "This is a woman who was imprisoned and tortured during some dark years of Chile's history — her father died in prison. Michelle Bachelet earned her medical degree and that was the direction she wanted to go. She was really reluctant to get into politics herself."
The biography, by Chilean writer Patricia Politzer, is titled Michelle Bachelet in a Land of Men, and Heine said the president's achievements are particularly significant in a culture that continues to be male-dominated.