Ancient Chinese breakfast going global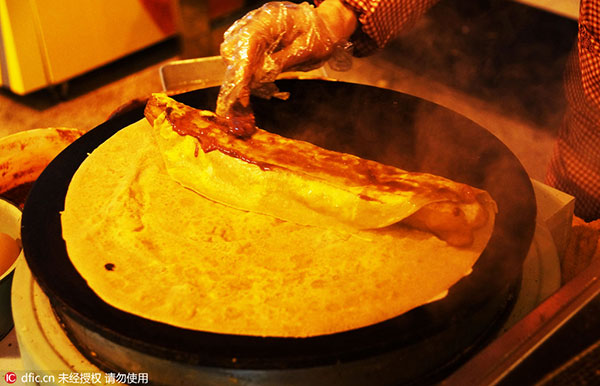 Jianbing guozi is most common in East China, and they're often made on street corners in carts fashioned to be pulled with a bicycle.[Photo/IC]
We arrived in China in 2012 in a blur of excitement and exhaustion.
In less than three months, I accepted a job in Shanghai, married my then-girlfriend Delores, and we sold two houses, quit our jobs, and reduced most of our personal belongings to fit into a 3-by-3 meter storage space.
After saying our farewells to family and friends, we were ready for a new adventure and a new life.
We got on a plane in Los Angeles and landed at Shanghai's Pudong International Airport. I barely remember the drive to a serviced apartment. Once we finally set our bags down, the exhaustion won out, and we spent most of the next few days sleeping, living off chocolate bars we had intended as gifts.
We finally emerged one morning, still in a bit of a daze, to hunt for some real food. After wandering down the street, we ended up in a line of people apparently waiting for something delicious for breakfast. As our turn neared, we watched the cook ladle batter onto a round griddle, crack an egg over it, and add chili paste, chopped scallions, cilantro and spices. Then it was folded up with some crispy wafers.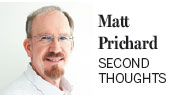 We had discovered the crunchy, eggy, spicy deliciousness of jianbing guozi, a traditional Chinese savory breakfast crepe, often with a rectangular strip of fried, crispy dough placed inside. I told my wife, "I hope McDonald's doesn't get ahold of this - they'd ruin it."
Four years later, jianbing have spread to the United States, but not in the form I'd feared. A recent article on the food website Tasting Table says: "The go-to breakfast Chinese students have been downing for years is about to hit big." It cites several entrepreneurs in New York City and San Francisco who are improvising, using such ingredients as Peking duck, tuna and even fried chicken and slaw.
It turns out this portable breakfast is quite ancient. TheWorldofChinese website explains: "According to legends, jianbing was invented nearly 2,000 years ago during the Three Kingdoms period (220-280) when Zhuge Liang ... was faced with feeding an army of soldiers who'd lost their woks."
Zhuge, chancellor of the state of Shu, ordered cooks to mix water with flour and spread the dough onto a griddle suspended over a fire. "The dish lifted his soldiers' morale and they fought their way out of an ambush," the article says.
This breakfast of champions is most common in East China, and they're often made on street corners in carts fashioned to be pulled with a bicycle. There are regional variations, with my favorite being Shandong style.
The Tasting Table article says the new jianbing phenomenon abroad is particularly popular with overseas Chinese communities, who consider it a comfort food with a taste from home.
But more people outside those communities are discovering them, too.
The article quotes Brian Goldberg, "proud New Yorker and founder of Beijing street food company Mr. Bing" as saying in Big Apple style: "'It's a bing. Get used to it, people.'"