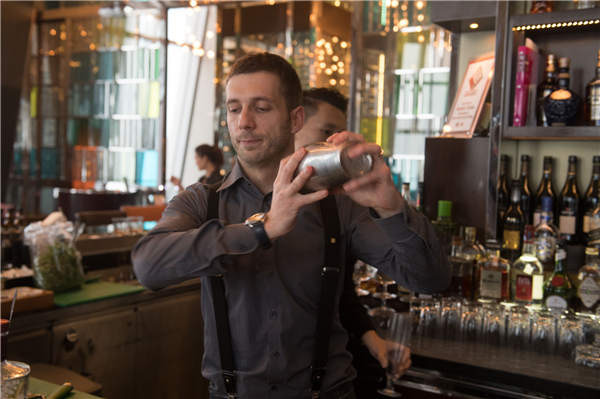 [Photo by Bruno Maestrini / China Daily]
Balint's own favorite, Golden Water Bridge, gets its currents of sweetness from rum, walnut, sesame, milk, honey and chocolate. What's not to like?
More difficult to grasp, like its name, is the Palace of Heavenly Purity. It features local hawthorn both in jelly form and infused in a premium tequila, plus Drambuie, Pechaud bitters and some homemade bitters that exude licorice and hazelnut. It's served in a bowl that's a miniature of a footed ancient copper vessel - reflecting both the Forbidden City theme and the barman's scavenger hunt to find the perfect cup for each cocktail invention. (He found these in a Nanjing restaurant, and some others in Beijing's Panjiayuan Antique Market.)
Pavilion of Rain and Flowers starts from a distillation of small-batch grape wine, whose fruitiness is cut by the additions of jasmine vodka and vermouth. The most complex may be the Glory Palace, which Balint concurs is the most layered and the most difficult to make. His colleague Tom, in fact, is its creator: he combined a sour base of Chinese red date with clove syrup and bourbon.
"I don't see Atmosphere as a cocktail bar," says Balint. "I want to make it an experience."
This summer, you can experience the Forbidden City in air-conditioned comfort, from a cozy barstool with a bird's eye view of the imperial landmark far below. Each drink is priced at 90 yuan ($13.50 ), subject to a 10-percent service charge and VAT.
If you go
80/F, China World Summit Wing hotel, 1 Jianguomenwai Avenue. 010-8571-6459.
michaelpeters@chinadaily.com.cn