Green Garlic for Laba Festival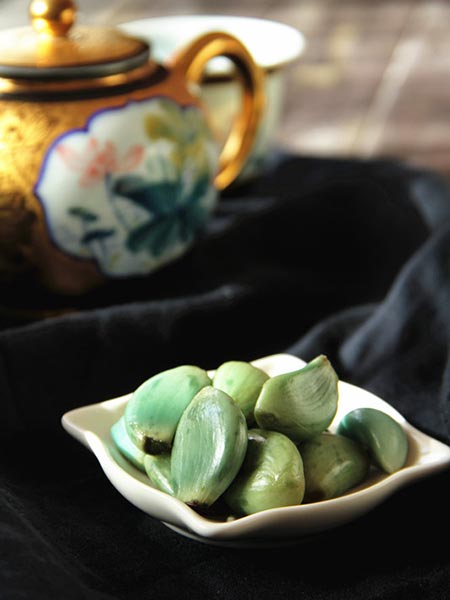 Laba Garlic. [File photo]
This Sunday is Laba, a traditional Chinese holiday celebrated on the eight of the La Month, the twelfth month of the Chinese Lunar Calendar. Aside from eating laba congee, people in northern China will make a special snack to serve during the upcoming Spring Festival, laba garlic.
What is laba garlic?
Laba garlic is a vinegar-preserved, pickled snack that is prevalent in northern China. It is called laba garlic because it is usually made on the eight of the La Month, when the weather gets really cold.
It often appears to be jade green in color and the garlic tastes sour and slightly spicy. The garlic is usually served with dumplings in northern China. During Spring Festival, the pickled snack almost becomes a necessity as it helps beat the greasy feeling brought about by the inevitable feast - as families unite to have a big meal.
How do you make Laba Garlic?
Three things are needed. A container, some garlic with pink peel and a bottle of rice vinegar.
First, peel and clean the garlic. Note that the garlic should be peeled dry, without touching water. Second, put the peeled garlic into a bottle with a cap. Third, fill in the bottle with rice vinegar and seal the bottle.
Once the garlic is sealed with the vinegar, place the bottle in a low temperature environment – it's best to be below 10 degrees Celsius. Storage time is not fixed, but it's usually about 20 days, until the garlic turns green.
Why is Laba Garlic green?
The green color, though unusual and sort of strange, is actually an indicator that the garlic is ready to be served.
As explained by He Hongju, a researcher at the Chinese National Research Center for Vegetables, the garlic will turn green because allinase, an enzyme in garlic, changes the structure of the sulphur-containing substance. The substance then produces blue and yellow colored matter, which combines and creates the color green. The green garlic, being less pungent, is more suitable for people of all ages.
How do you eat laba garlic?
Laba garlic is abundant in micronutrients such as kalium, ferrum, selenium, zinc and folic acid. So, aside from eating it directly as an appetizer, it is also used in Chinese medicine to prevent colds and to lower blood pressure.
Note that eating too much laba garlic will make one feel weary. So, please eat it in moderation, say, no more than ten at a time.
Related:
Celebrate La Ba with porridge and garlic