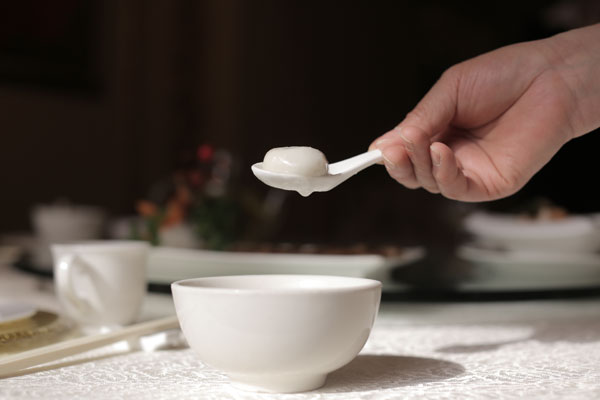 The hotel's popular snacks including tangyuan. [Photo by Wang Jing/China Daily]
While tangyuan is a traditional snack for the Lantern Festival, served in a bowl of sweet broth, the dumplings can appear at other celebrations, as a dessert on a wedding day, at the winter solstice festival and at family reunions - because the word tangyuan is a homophone for "union". That's the aura the dumplings bring this week - they are a talisman to make sure that "everything goes well for the family in the year ahead" at the end of the Spring Festival period that brings them all together. She remembers being given tangyuan as a child at this time of year as an omen of success, and it's still a tradition for eager Chinese youngsters today.
In her restaurant kitchen in Beijing, even the familiar steamed buns known as baozi become standouts in her experienced hands.
Her dough seems softer than what you typically find in the north. But what really sets Chongqing baozi apart, she says, is the filling. In Beijing, cooks will usually take fresh raw pork, season it and then stuff it into the dough for steaming. In Chongqing, the filling is fried first with salt and ginger, bringing out an extra dimension of flavor.
Other snacks she's serving up this week: sausages stuffed with seasoned pork, a fine delicate soup studded with pork chunks and chickpeas, fried-rice squares with pork seasoning and a spicy pickle made from a vegetable stalk indigenous to Sichuan. There is also "Chongqing bacon" - pig intestine stuffed with seasoned beef and boiled - and baifungao, a white honey confection of regular rice flour that's first steamed and then fried, which produces a cake-like consistency that is much healthier than a baked cake because it's all natural and doesn't require the oil that a baked cake does.
Making food healthy is just as important as making it delicious, she says with all the resolution needed to start a new year.