Sit back and relax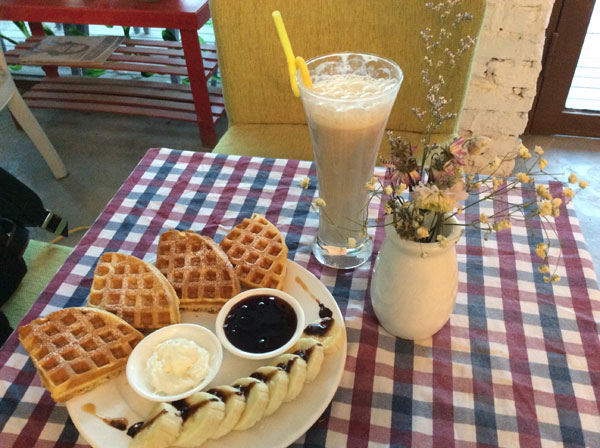 Founded by two longtime DJs, Lazy Coffee and Bar offers a homey atmosphere with good food and drink options. [Photo by Yang Feiyue/China Daily]
The space is small. The decor simple. The menu unassuming.
That may not sound like a formula to create an Internet frenzy, but Lazy Coffee and Bar tops the list of the 10 best places for a tea-time break by netizens on Dianping.com, a popular website designed for people to rate dining service.
On the main street of Beijing's Beiluoguxiang, the bar is an oasis of serenity, as opposed to the hustle and bustle at Nanluoguxiang, just a stone's throw away.
The main area is no more than 30 square meters and home to several small tables covered with quadrilled cloth, wooden chairs, a small bookshelf with CDs and books, and a long, comfortable couch. A more private room in the back can accommodate three to five people.
The bar's coffee offerings are all made from the beans of Italian coffee brand Illy. A tiny cup of handmade espresso, with its dense brown film on top, enables you to fully savor the essence of the coffee beans. The brew is moderately bitter with a hint of sourness, and we're advised to drink it quickly - before it gets cold, and before the sour edge takes over and ruins the balance of flavors.
The Blue Love, a cold nonalcoholic cocktail, features a French blue curacao syrup mixed with soda water and lemonade made with homemade syrup on the bottom layer. The big glass gives a good first impression, and the nice balance of sweet, sour and soda refreshes without leaving a sticky aftertaste in the mouth, as many sweet drinks do. Mojitos and other alcoholic cocktails are available, too.
The banana-flavored smoothie boasts natural ingredients: a mash of milk, banana and homemade syrup. Nothing extraordinary but simple and healthy.
Another highlight of the bar is the desserts, especially the owner's homemade waffles. Butter cream, blueberry sauce and fresh banana slices are poised on the side, ready to complement the thick, soft-centered waffle.