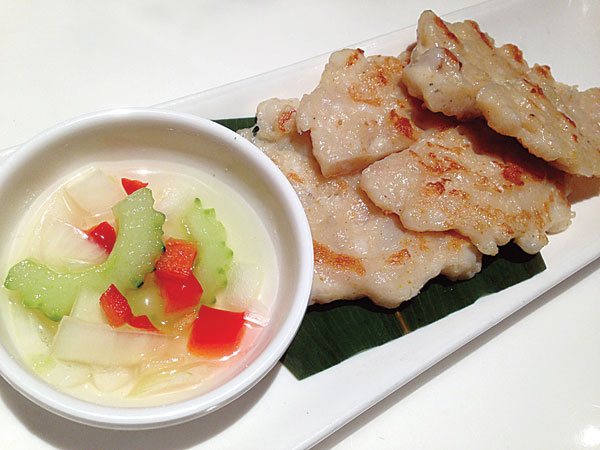 Off: Squid cakes gone wrong. [Photo provided to Shanghai Star]
This also happens to be the spouse's favorite order and he had very definite opinions on how it should be cooked. We both decided that City Garden deserves a pass on this. I found the pepper a little lacking in heat and the dish was also a tad too sweet. The bunch of wilted chives on top of the crabs was puzzling and out of place. The spouse's main complaint was that the crab was overcooked and the meat was stuck to the shell.
When we asked for red chili and soy sauce, a classic dipping sauce, it did come, but we found out later that we were charged 10 yuan for the little saucer.
Overall, City Garden deserves merit for trying. I also appreciate the station manager's explanation that the flavors had been adjusted to suit local palates. My own argument is you must be as authentic as possible if you are using the country's food branding. After all, so many Chinese travel abroad these days they will surely recognize the poor imitations at once.
All I can say is: City Garden gives a fair introduction to what Singapore food is, but I hope when you do travel to Singapore, you will be pleasantly surprised by the real deal. In the meantime, I'm cooking my own black pepper crabs at home.
IF YOU GO
City Garden 2/F, Shanghai Plaza, 138 Huaihai Middle Road 
Telephone: 021-6387-3777