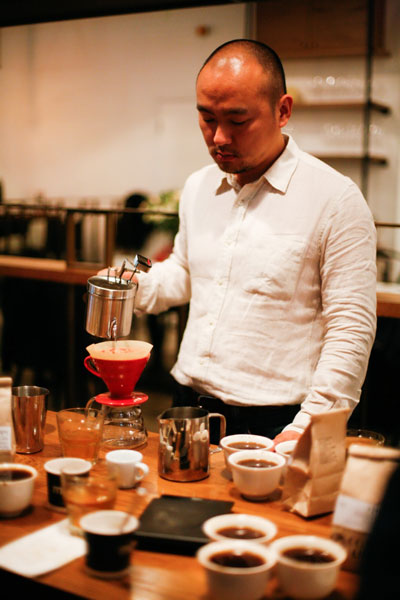 Pil Hoon Seu makes coffee at Mano.Provided to China Daily
"Rounded with a floral bouquet and citrus notes." "Alkaline with a spicy finish." "Sweet with a touch of caramel." "Chewy."
Chewy?! These are all words used to describe coffee. Yes, coffee.
I have been a coffee drinker for over two decades now - not counting the sips I stole as a child from my father's cup that he would leave somewhere. His coffee was always very sweet and milky. This was not the "right" way to properly taste the coffee, but it was how he enjoyed his cuppa joe.
Tasting coffee with Pil Hoon Seu, 2013 World Roaster & Barista Champion, one day at Mano on Queen's Road, Central, I discovered that I had a lot to learn about coffee. Having been a coffee drinker for so long, I know what I like, but I didn't have the words to convey what the flavors taste like. Coffee, like wine, is a beverage made from plant-based raw ingredients. That means that things like rainfall and soil, or terroir, can affect the taste of the coffee beans and therefore the taste of your cup of coffee. Terroir is a concept borrowed from the French wine Appellation d'origine controlee (AOC) system and is basically the environmental factors that affect the raw ingredients used.
Pil runs Coffee Libre, his Seoul-based coffee business, and imports his own beans including some direct trade coffee. He roasts the beans and blends them in Seoul and they are then air-shipped to Hong Kong where they are served at Mano. Mano also serves food - they have a fantastic assortment of baked goods and also serve meals - but the main draw is the coffee.
Having never given much thought to how coffee is blended, it only really occurred to me at this tasting session is that beans from the same location and supplier could have very different flavors for each harvest due to environmental factors. Pil is a master roaster and blender who can make his blends taste the same even with different batches of beans. This shows the skill of a master.
Pil walked us through the coffee tasting and explained "cupping" to us. Cupping involves using three cups that have equal amounts (12 gram) of the same coffee in them. Hot water (200 ml) is poured into the cups and these are used to compare the consistency and flavor of the coffee.
First we smelled the coffee, then we used a spoon to break the layer of grounds floating on top, and then we used the spoon to take some coffee, which we noisily slurped. Not being an expert, I concentrated on getting the basics right and to not spill coffee on myself. Experimenting a bit with the same beans and how flavor is affected by how fast the coffee is brewed, we learn that slow brewing makes a darker cup of coffee and faster brewing makes a more acidic cup. The grind - fine or coarse - also affects flavor.
According to Chae Cheon, partner at Mano, customers are currently ordering their coffees with milk about 80 percent of the time, but straight black drinkers seem to be on the rise. The signature "must try" coffees at Mano are Coffee Libre's "Bad Blood" blend, which retains the complex flavor and character of green beans; and the balanced sweetness of "No Surprises", with the taste of fruity chocolate.
If you go:
Mano
G/F, The L. Place, 139 Queen's Road, Central, Hong Kong. 852-2399-0737.
Cost per head: under HK$100 ($13).
Recommended: Bad Blood, No Surprises, the pastries and baked goods to go with your coffee.