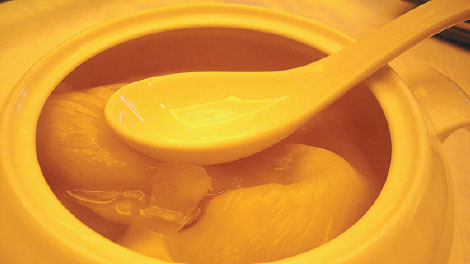 Double-boiled fish maw with baby pak choi in superior stock is a popular dish at Man Ho restaurant in Guangzhou Marriott Tianhe. Rebecca Lo / for China Daily
When Pacific Place first opened in Hong Kong in the late 1980s, one of its most highly anticipated restaurants was Man Ho in JW Marriott Hotel. The characters Man Ho represent the name that Marriott goes by in Chinese, and naturally it was the five-star hotel's signature restaurant.
From the beginning, Man Ho brought a new level of Cantonese fine dining to an audience that wasn't used to feasting on traditional dishes in luxury surroundings. Its position as a family-oriented hotel equated to generous spaces between tables for diners to enjoy Sunday family dim sum with plenty of elbow room. Hong Kong's Man Ho set a standard for other Marriotts in greater China to follow.
When Guangzhou Marriott Tianhe opened in 2012, its signature restaurant was Man Ho. In a city known for being the birthplace of fine Cantonese cuisine, it seemed fitting that the restaurant focused on local seasonal produce and authenticity. It emphasized traditional fare such as dim sum, fresh seafood and succulent roast meats in portions meant to be shared.
The restaurant takes up a significant portion of the hotel's sixth floor. Along with the open dining area, there are 11 private dining rooms identified by different auspicious numbers. Man Ho's interior design is courtesy of Karen Wang, a Hong Kong-based designer who also worked on the rest of the hotel. Chinese antiques and art abound, grounding the contemporary space with timeless elegance.
The food and beverage menus are extensive and varied, providing plenty of choices for diners. There are also more than 80 Chinese teas carefully selected by an expert tea master, alongside a number of traditional spirits. The 138 yuan ($23) daily all-you-can-eat dim sum caught my eye, and I made a note to come back between 11 am and 2 pm to try it on another visit.
As we were there for dinner, I concentrated instead on the bewildering array of tempting Cantonese delicacies. Peking duck, kung pao chicken, double-boiled soups and bird's nests were all present, along with traditional desserts, such as sweet cashew-nut soup. Luckily, my friend Queenie arrived and she helped me navigate the menu by selecting a balance of appetizers and mains that were house specialties.
We started with a medley of cold appetizers: black fungus tossed in aged vinegar sauce, jellyfish in spring onion and sesame oil, and pickled radish peel. Although I have tried these dishes before, Man Ho's versions are refreshing and they balance sweet, sour and savory flavors deliciously.
IF YOU GO
Man Ho 6/F, Guangzhou Marriott Tianhe, 228 Tianhe Road, Tianhe district, Guangzhou. 02061088888 Ext 8380.
Average cost per person: 200 yuan ($33).
Recommended: Pickled Radish Peel, Sauteed Diced Beef Tenderloin in BlackPepper Sauce, DoubleBoiled FishMaw with Baby Pak Choi in Superior Stock.