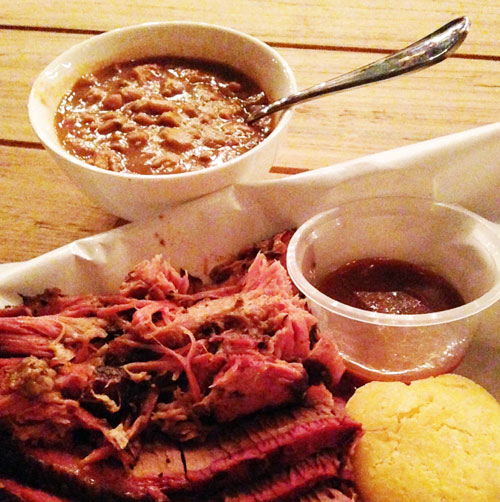 The sliced brisket platter is the signature dish of Home Plate Bar-B-Que restaurant in Beijing. Mike Peters / China Daily
It had to be the softest opening ever: No sign outside, which can be tricky at night if you are looking for the new Home Plate Bar-B-Que in Beijing's humming Sanlitun district. But fans - lots of them - are apparently following their noses, as we did, passing through wafts of applewood smoke to be greeted by the restaurant staff at the front door.
On two recent visits, the new outlet was the busiest eatery in Sanlitun's Courtyard 4, once a sleepy area despite the dance buzz of Salsa Caribe and the smart set browsing The Bookworm. Adding nightlife to the zone now are Basement Club, The Rug and Touch - with a lip-smacking martini for just 50 yuan ($8).
Home Plate will be the everyman's reason to explore the neighborhood, and the tender and tasty beef brisket - the star of the menu - is just one reason. The space is open and attractive, with Johnny Cash and other country legends crooning from the speakers. Interior red-brick walls flaunt both industrial chic and low-brow beer signs.
I am leery of soft openings - and even leerier of writing about them. These test-drive periods are for the kitchen and wait staff, and are essential for getting the kinks out before real business begins. While boasting on WeChat "I was here first" can be fun, it can be best to let them "get the kinks out" with somebody else's dinner.
But if there's an exception that proves the rule, Home Plate No 2 is it. The menu has been slightly abridged while the kitchen is on training wheels, but what comes out of the kitchen seems flawless. We could whine about the stingy little cups of sauce, and we will, and there was a similar issue with a side order of hush puppies - we got two of the cornbread critters.
But frankly, my dears, we didn't give a damn, mostly because the Chinese staff members are so determined to make everything work. They open the door and greet you on arrival. They take (and come back with) your beverage order right away. They notice when your glass is empty, your plate is clean, and when you have that "What's for dessert?" look in your eye. And they'll cheerfully bring more of that good, savory sauce if you ask. If they could sing "home with the armadillos" - or even drawl a little - you would swear that you are being served in Houston, Texas, where founding partner Adam Murray grew up and learned to cook 'cue slow and sweet.
Murray's brother Brian joined the team last year, and he's the laid-back front man at the new location. He says the kitchen is still tinkering with the menu, though the eatery's first-rate burger, lean pulled pork and sublimely tender brisket are clearly untouchables. Some of the side dishes from the original Sanyuanqiao location - now in vigorous renovation - are getting a needed makeover at the same time. We hope the fried pickles survive the transition, and Murray promises new sides such as mac-and-cheese as well. And that small portion of hush puppies? Those cornbread fritters are yummy and cheap, so we'll just double-order next time.
Meanwhile, there is a full bar, an expanding wine list and draft beers from local craft brewer Slow Boat to complement a heady bottled-beer list. After mentoring from Beijing bar legend Leon Lee, of Apothecary and Janes & Hooch fame, Home Plate's bar crew now offers 20 cocktails - including Smoky Maple Old Fashioned, Fig Sazerac, Triple Crown Julep, Devil's Julep and Kentucky Rose - to go down easy with the restaurant's Southern fare.
The bar stock also finds its way to the dessert counter, where a bourbon-laced cinnamon panna cotta will leave you with sweet dreams in anticipation of your next visit.
IF YOU GO
Home Plate Bar-B-Que, 1/F, Unit 10, Courtyard 4, South Sanlitun Lu (Road) (100 meters east of The Bookworm). 010-5128-5584.
Average cost per head: 90 yuan ($15)
Recommended: Sliced Brisket Platter, Pulled Pork Sandwich, Fried Pickles, Double Cheeseburger, and Panna Cotta.