Michelin chef, Chinese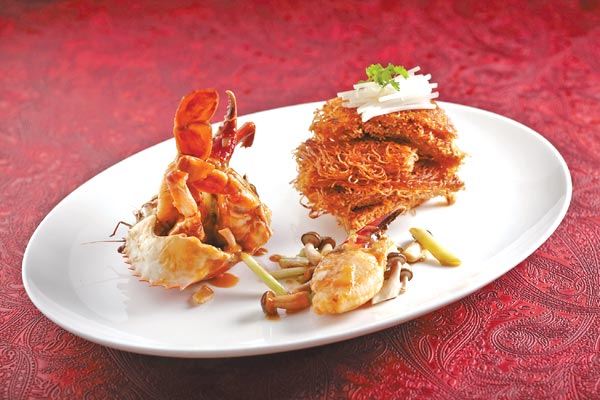 Michelin chef Mok Kit Keung presents a unique menu of creative dishes such as crab and vermicelli and tomato fish maw broth. [Photo by Pauline D. Loh/China Daily]
He's one of the first Chinese chefs to be awarded Michelin stars in Asia, and in Hong Kong, his restaurant is the place to go for good Cantonese food with some rather surprising influences. Pauline D. Loh pays a visit.
Thirty-five years in the kitchen and stints at some of the best hotels in Singapore is a winning combination for Mok Kit Keung. Working in a country known for its unusually large proportion of gourmets, gourmands and just good food lovers gives the chef an unusual advantage. His classic Cantonese dishes have that added element of texture and crunch, the extra touch of subtle herbs and some unique creations - witness a savory-sweet mousse made of black garlic. The same element surfaces when he garnishes a deep-fried grouper and foie gras with black-garlic chips.
And now, back in Hong Kong at the Shang Palace in the Kowloon Shangri-La, he has won recognition by no less than the Michelin gods.
Make no mistake, the chef is very grounded in traditional Cantonese, and his forays into fusion still sticks strictly to the tried and tested.
We are served an amuse bouche of century-egg wedges, soft at the center with jellied whites glistening with signature snowflake crystals. What makes it different is what arrives with it - a little platter of crisp pink pickled ginger slices and wasabi-flavored black cloud-ear mushrooms.
It is a brilliant marriage of contrasting color, texture and taste that earned nods of approval from the guests, including venerable Hong Kong food critic Willie Mark and Dagong Bao's health editor Choi Suk-fun.