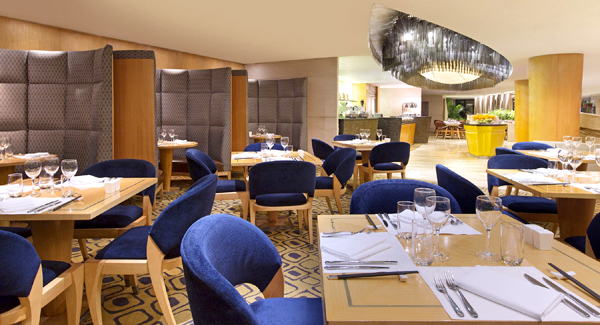 The Stage is set for another banquet breakfast.[File photo]
Shanghai isn't the kind of place you can just laze around. This bustling metropolis is a hive of activity - and whether you're there for business or pleasure, you'll need vast reserves of energy and enthusiasm to do the city justice. Enthusiasm, I'm afraid, is in the hands of the individual. But when it comes to boosting energy levels for the day ahead, there's no more appetizing and extensive option than The Westin Bund Center's hearty breakfast buffet.
Every morning, between 6:00 and 10:30, the hotel's light and airy casual dining restaurant - The Stage - plays host to an array of food so vast and eclectic that it would awe Henry VIII himself. Kick off with a bowl of cereal or a glass of fresh fruit juice, sure. But that should merely be a stepping stone to the real goodies, of which there are many...
First of all, there's the pancake and French toast station - my favorite corner of Shanghai, if truth be told. Just say the word and a chef will whip up your order, complete with a drizzle of syrup, honey, or thick chocolate sauce. That's not The Stage's only sugary paradise, though. There's also an area devoted purely to yoghurt and panna cotta. The sweetest option - and arguably the most delicious - is the panna cotta topped with caramel. A single pot has the power to put a beaming smile on your face and should give you enough energy to march around the city at least twice. And if you find your smile or energy levels fading later in the day, you can also pick up a pot (as many as you want, in fact) at the nearby Daily Treats deli.
Of course, sweet and sugary breakfasts aren't for everyone, so The Stage also provides a selection of so-called SuperFoods in the form of specially selected fruits, vegetables, grains and proteins - all designed to improve well-being and longevity.
For those who want to embrace the Chinese culinary scene, there's a dim sum area that houses all sorts of tiny bites - from meat buns and dumplings to pastries and rice cakes. Going local isn't an obligation, though, as all the usual western goodies are available if you're missing your egg and bacon fix. And there's even an exotic Thai kitchen for adventurous and/or sleepy diners who want to begin their morning with a spicy kick.
If you want to indulge in a hearty breakfast feast at The Stage (located on the ground floor of The Westin Bund Center), contact the restaurant at: (86)(21) 6335 0577. Breakfast runs from 6:00 to 10:30 every morning and costs 218 + 15 percent.