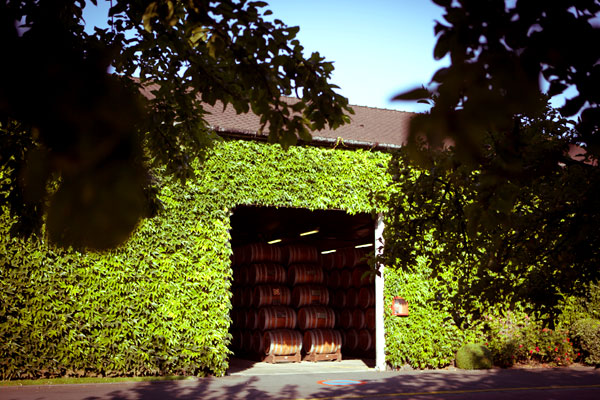 The stone-walled Pere Magloire distillery leads a way through the history of the region. [Photo provided to China Daily]
Calvados, the fruit brandy for which Normandy in France is so famous, will no longer be the best-kept secret of the region. In fact, it is headed straight for the largest potential market in the world - China. Mathew Scott reports.
Vincent Boulard can hardly contain his excitement as he sits down to take his place along the oak-wood dining table. His first suggestion here inside the Restaurant Normand is that we indulge in a dish that will allow us to sample some of the produce plucked from the Normandy region of France that surrounds us.
We are presented with a fondue that features steaming hot pots of Camembert, Livarot and Pont-l'Eveque, the cheeses unique to the region, and into which we begin to dip and smother chunks of ham, sausage, potato and apple.
But Boulard has an agenda today, dining with us in a room carved out of an ancient oak barrel that was once used to age the apple brandy the locals here call calvados.
Since the 1500s, distilleries around Normandy have been producing this potent brew, which alongside the rich scent of the fruit from which it is borne can often reveal the tastes of other fragrances such as pear and even honey, and which, like the local department, takes its name from the Latin phrase used by ancient seafarers for the cliffs which mark the local coastline.
What Boulard wants to share is the news that the region's three leading brand of calvados have struck an agreement with the Vanchine Wine distribution outfit in Shenzhen that will begin to see their products introduced - for the very first time - into the Chinese market.
"I cannot really explain just how excited we are by this news," says Boulard, director of public relations at the Spirit France premium spirits group, which controls the Pere Magloire, Boulard and Lecompte calvados labels.
"For us here in Normandy - and in particular around the towns of Trouville and Deauville - calvados has always been a little secret we like to share with our friends. In this way calvados has been taken to around 80 countries over the years but never before into China. For us this is like the final piece of the puzzle and now the whole world can share this secret with us."
Before sitting down to lunch we had been taken on a tour of the stone-walled Pere Magloire distillery across the road here in Pont l'Eveque (founded in 1821) and have been walked through its history - and the history of the region - by Boulard's colleague Marie-Anne Saloux.