Taste and local culture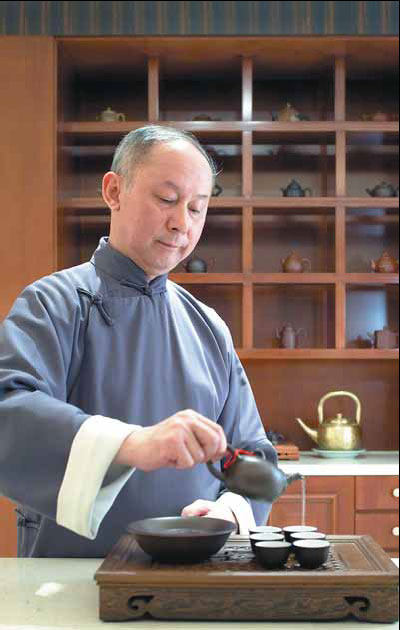 Tea master Xie Siwen enjoys passing on his knowledge of tea and drinking tea to guests at the Ritz-Carlton in Beijing. Photos Provided to China Daily
Many international hotels in China are introducing tea and culture into their success formula to include the host country's local characteristics and reflect international travelers' changing tastes. Sun Ye in Beijing and Wang Yuke in Tianjin file the updates.
Tea sommeliers. It's a new job description in the hospitality trade, and qualified candidates are in great demand. The only problem is there are still relatively few people who can fit the roles. To be a good tea sommelier, you need a comprehensive knowledge about tea and the ability to explain its intricacies. Not only that, you must look the part of cultural ambassadors of an art that dates back 2,500 years.
Xie Siwen certainly does.
At a youthful-looking 70, the tea sommelier at the Ritz Carlton Beijing is still not used to the taste of water.
What he does drink every day are pots of dragon well green tea grown near his hometown. It's the first and last mouthful he takes each day, and the drink he recommends to guests wanting to take the edge off the heat in summer.
Xie was raised in Shanghai by a family that had migrated from Zhejiang province and has been drinking green tea for as long as he could remember.
For most of his adult life, drinking tea had been both habit and hobby.