Peruvian food proves worthy of the hype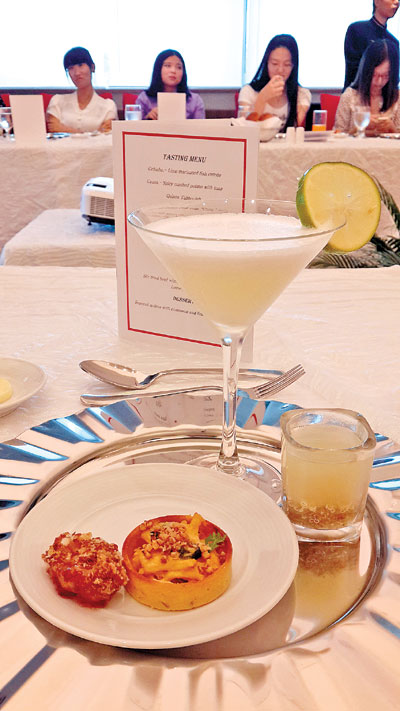 Causa, sole fish with quinoa crust, and quinoa and chicken clear soup are recommended in Westin's Peruvian food promotion. Provided to China Daily
We went to the Peruvian food tasting filled with great anticipation and expectation. The invitation says Peru was declared the "Gastronomic Capital of the Americas" at the Fourth International Summit of Gastronomy Madrid Fusion in 2006, regarded as the world's most important gastronomic forum.
On top of that, it's a well-known fact that celebrity chef Nobu's cooking has Peruvian influences and super chef Ferran Adria was once quoted saying that "the future of gastronomy is being cooked up in Peru".
A brief introduction by the Peruvian ambassador to China, Gonzalo Gutierrez, at the tasting table made us even more curious about the treasures of the rich gastronomic heritage of Peruvian cuisine.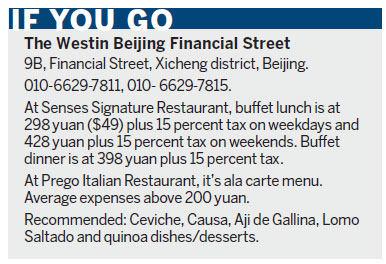 "Peru has been declared the world's leading culinary destination for 2012 by the World Travel Awards after competing with renowned cuisine nations such as France, China, Italy, Mexico, Spain and Thailand," he says.
To say that Peruvian cuisine is rich in heritage is an understatement. It has a mix of Spanish, Moorish and African culinary influences creating what is known as "criolla" cuisine.
In addition, the influx of new waves of immigration from China, Japan, Italy and other European countries has contributed to the melting pot of diverse flavors.
First up is Peru's national fish dish Ceviche, which is lime marinated fish. Declared part of the country's national heritage, it even has a national holiday in its honor.
It's a seafood dish typically made of fresh raw white fish marinated in lime juice and spiced with Peruvian chili pepper.
Ceviche is usually accompanied by side dishes that complement its flavors such as sweet potato, lettuce and corn. This is the favorite dish of a few of us who love raw fish.
The next delectable entree is Causa, a combination of two basic elements to the Andean tradition - potato (female element) and chili pepper (male element). They are eaten together to preserve the natural balance of things.
The Causa that we tasted had tuna sandwiched in between mashed potato mixed with lime, onion, chili and oil. It is indeed one of those balanced dish that we will never feel we had too much of.
The other options for stuffing are prawn or crab mayonnaise, langostines with golf sauce, octopus in olive sauce, poached fish and chicken, among others.
This year being declared the "International Year of Quinoa", by the United Nations, we tried two dishes and a dessert with quinoa in them. They demonstrated how versatile the grain is.
The Incas considered quinoa the grain of the gods because of its nutritional values and impressive biodiversity. Quinoa, with a texture in between barley and oats, is said to be a grain that contains the most complete amino acid composition.
We had quinoa and chicken clear soup "Chifa" (Chinese-Peruvian) style, that was soothing to the stomach; and sole fish with quinoa crust dipped in sweet, sour and spicy sauce, that was fragrant. The sauce reminds us of a common chili sauce in Thailand.
The dessert is creamy quinoa sprinkled with cinnamon, which was complemented by lime mousse with cream over a piece of pastry. A perfect end to a meal.
There is no Peruvian restaurant in Beijing yet. But there is an ongoing Peruvian Gastronomic Festival at The Westin Beijing Financial Street, where you can taste the explosive culinary integration. The promotion ends on Aug 4.
After tasting a few of the representative dishes, we give the thumbs up. The chefs have indeed done justice to the international titles given to their home country's extravaganza.