Cooking with flowers blooms under master chef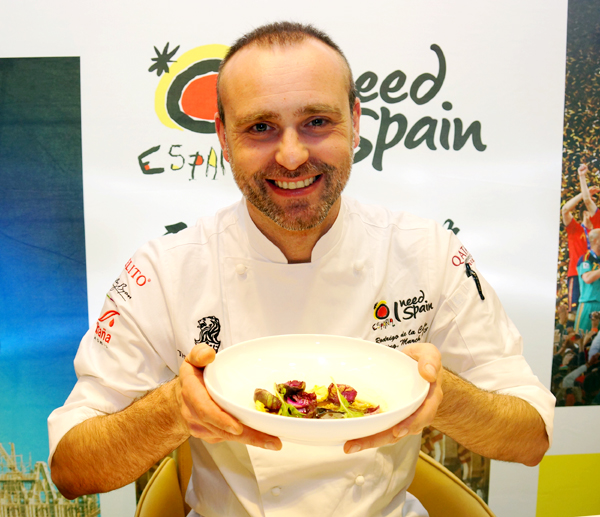 Spanish chef Rodrigo de la Calle says when other men pass a flower shop, they might think of buying flowers to give to the woman they love. But he would think about how to make it into a dish.
The chef is known for inventing "gastrobotany", a culinary concept using unusual vegetables in haute cuisine. He came to China to display his cooking skills from March 11-16 at Barolo, the Italian restaurant in The Ritz-Carlton Beijing.
In fact, the chef loves vegetables so much, he has them tattooed on his right arm and back. He seems to have a lot of connections with vegetables, too — his father is a farmer, his mother a chef.
His mother-in-law, who came to China to study traditional Chinese medicine, said his nature in the five elements is wood, and therefore he should eat more artichokes and endives.
In his cooking demonstration, he makes a cole soup, in which slices of cole leaves seem to be placed randomly. But when the broth is poured in, the dish looks like a lively pond. After he sprays pieces of mashed broccoli and cauliflower on top of rice braised with assorted mushrooms in duck broth, it looks like natural spring scenery.
Tomato and bread brulee, poached endives, pumpkin with goat cheese and wine sauce — the majority of the chef's dishes are simple but natural ingredients that offer a pure, delectable taste. The combination of ingredients is natural and unsophisticated. The presentation looks casual, but is beautiful and unpretentious.
At 36, the chef has been cooking since he was 18 years old, and working as a chef since 2000. He worked in 36 restaurants in nine cities in Spain before opening his own restaurant in the small town of Aranjuez, south of Madrid. The restaurant named after him, Rodrigo de la Calle Restaurant, got one Michelin star in 2011.
In 2000, Rodrigo de la Calle met Santiago Orts, a botanist, when he worked in La Taula del Hotel Milenio restaurant in Elche, a small town in east Spain. Since then he invented "gastrobotany".
He said he feels lucky because as the whole world is looking to vegetable dishes, his restaurant specializes in that.
Rodrigo said two great chefs in Spain he worked with influenced him the most. One of them is Andoni L. Aduriz, whose restaurant, Mugaritz, has two Michelin stars. Andoni uses only herbs, flowers and vegetables. The other influential chef is Martin Berasategui, whose restaurant has three Michelin stars. Berasategui uses traditional foodstuff to prepare creative dishes.
The chef himself is not a vegetarian and does not think he will become one. But he eats just a small amount of meat and fish. Although he would like to concentrate on vegetable dishes, it would make it difficult for his restaurant to survive in its town of 25,000 residents.
Rodrigo de la Calle believes the guests can tell their chef's mood through the food. When he is not happy, guests will feel sad. When the chef's happy, customers will be happy, too. The emotion can infuse itself in food. And guests are able to tell.
"There is only one best food no matter where in the world — the one chefs treat well," he says.
He used to tell his colleagues in the restaurant: "When you serve food to the customer, you should think the dish is for your mom. When you take it away, you should think it is a pity the dish is not for me."
He thinks Ferran Adria is a milestone in Spanish cooking. If there is a book of Spanish cooking, it should be divided to "Before Ferran" and "After Ferran", he says. Although Adria is important, the chefs thinks there are more than 20 chefs who cook like him. "Each chef is unique, because they will do what they want to do, and have their own specialties, be it seafood, or vegetables," he said.
Only in the past four years has the chef been touring around the world to make cooking demonstrations.
"When I first started cooking, Michelin star chefs are like football stars to me," says Rodrigo de la Calle. "Sometimes I still don't believe I'm one, and will pinch myself on the hand to make sure I'm not dreaming."
But he doesn't think he has succeeded. "It has all only started," he says. "Maybe if one day I open a restaurant in China and make a lot of money, I will consider myself successful."