Hidden dragons, crouching tigers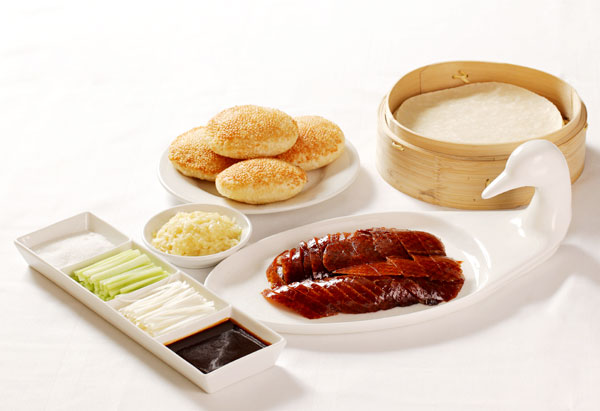 Yuan Chaoying hopes to keep Peking roast duck's taste traditional and unchanged.
Among the vast number of restaurant kitchens in Beijing, there are many that merit both diner devotion and media attention. But, as Ye Jun points out, there are also the quiet achievers who are slowly making a name for themselves through steady hard work and outstanding quality. China Daily blows their covers.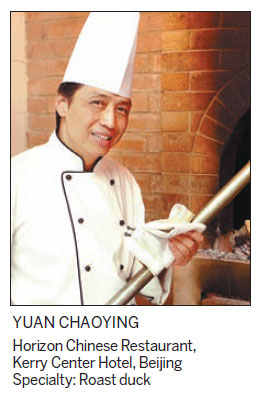 Chef Yuan Chaoying insists there is no secret behind his great-tasting Peking roast ducks.
"If there is anything, use good ingredients and follow each step correctly," he says.
Yuan, a Beijinger, was executive chef of the legendary Ya Yuan, tucked away in a 3-star State-run hotel. Its roast duck had attracted the rich in Beijing and even dedicated diners from Hong Kong and Macao.
Before that, Yuan had worked as a chef for 23 years at Quanjude Peking Roast Duck's Hepingmen branch.
His roast duck pedigree is impeccable and Yuan has set his own standards. His ducks must be roasted to a dark date-red glaze, he says, a color that he thinks is most attractive.
Not only that, but the duck presented at his tables come only from the leg and the breast, in precise slices.
He deliberately offers these so diners can experience the different textures - the tenderness of the breast meat, and the more textured dark meat from the leg.
Yuan's Peking duck is outstanding, and the devil is in the details. He roasts his birds for about 60 minutes, more than the usual 45 minutes in other kitchens. This renders the fat beneath the skin, and the flavor is infused into the crisp coating while the meat becomes meltingly tender.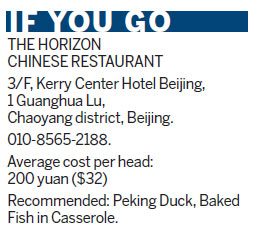 The pancakes used to wrap the duck are transparent but resilient enough to still have a bit of a bite to them. Even the dips are just a little different coming out from Yuan's kitchen.
Apart from the usual sweet sauce that is served, Yuan tries to persuade diners to try the duck slices dipped into sugar and garlic puree a slightly pungent but delicious alternative that also helps ease the grease.
The chef sources his ducks from the Jinxing farm, just like the other top duck eateries in the capital. The only difference, he says, is that he prepares fewer ducks in a day, sometimes only just 10 or a little more.
His ducks are available only if you call ahead.
Yuan uses the traditional Beijing jujube wood for his oven, a dense wood that keeps the fire burning long and steadily.
Yuan believes you should not meddle with the traditional recipe too much because "there is a reason why it has been preserved and passed down hundreds of years".
Yuan, 54, walks around his restaurant every day to greet customers, and says a chef's biggest asset, apart from his cooking talent and skill, is connections he accumulates.
Many of his celebrity customers come especially for him and if he is not in that day, they would come back again.
There have been invitations to work overseas, but Yuan had declined all.
"Roast duck is a Beijing thing, my root is here. If it leaves Beijing the taste will change. Here I can keep it traditional and unchanged," he says.